Kurt Angle Opens Up on a Potential Match with AEW Superstar Sting
Published 05/03/2021, 8:30 AM EDT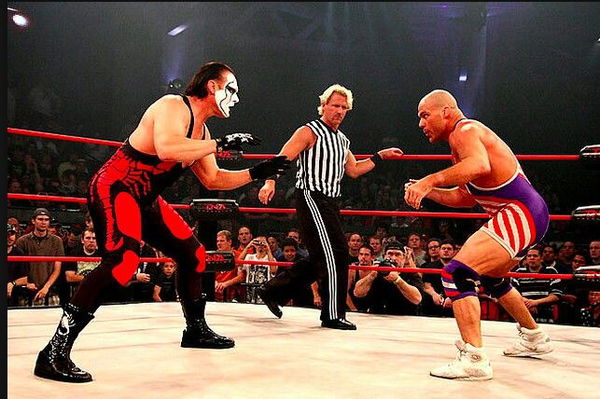 ---
---
Before AEW Revolution, Kurt Angle teased his return to wrestling by posting a cryptic video on his Instagram. While the video suggested the Olympic hero would return, it ended up being a work. However, Angle has claimed his career is over, and he wouldn't even return to face one of wrestling's biggest names.
ADVERTISEMENT
Article continues below this ad
Kurt Angle does not want to face Sting in AEW
ADVERTISEMENT
Article continues below this ad
In TNA, Kurt Angle crossed paths with Sting many times. They weren't the John Cena and Randy Orton of TNA, but they met in five one-on-one matches in five years.
The first time they met was in a six-pack match in 2006. However, their first singles match came at Bound for Glory 2007. At the PPV, Sting beat Angle for the TNA World Championship.
Despite their great rivalry and splendid matches in TNA, Angle isn't keen on facing Sting in AEW. On an episode of the Kurt Angle Show, he explained why he wouldn't want to face the Icon.
"Well, considering I'm 52 and Sting's a lot older than I am, I'd say the chances are no, slim to none. We're not too old to wrestle younger guys, you wrestle a younger guy who can spice up the match and make it a little more interesting, you can have some great matches still. When you start losing a step and you're both older and both lost a step, it's really hard to make that up." (H/T Wrestling Inc)
"Undertaker vs. Goldberg, they were both up in age, but if you put Goldberg with Brock Lesnar or Undertaker with AJ Styles, or switch them around, you're going to get a great match. The younger guy keeps the match flowing, keeps the match moving. To have two older guys who should most likely be retired but they can still go, it's going to be a lot more difficult to have a successful match."
Angle praises Sting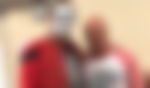 On the same podcast, Angle praised Sting despite refuting claims of a match between the two in AEW. He said Sting was a really nice person for someone who survived WCW.
"We hit it off from the start. We got along perfectly well, we had a lot in common. He was just one of the most humble people I had ever talked to. I can't believe that he was a part of WCW at a time where things there were very political and guys were stabbing each other in the back."
ADVERTISEMENT
Article continues below this ad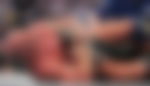 "For Sting, as nice as he is and as generous as he is, it's crazy that he had that much success in that company, that's just outlandish. He's such a great guy, he's one of the most solid guys I've ever met."
Is it a blessing we won't see a match between two wrestlers way past their prime? Or are we missing out on the last installment in the classic feud between Kurt Angle and Sting?
ADVERTISEMENT
Article continues below this ad