Kurt Angle Recalls a Life Threatening Spot from his Match Against Mr. Anderson in TNA
Published 04/20/2021, 7:30 AM EDT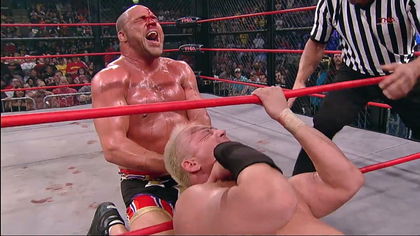 ---
---
Kurt Angle was the face of TNA wrestling for a substantial period of the company's history. His matches against Samoa Joe, AJ Styles, Jeff Hardy, and Sting are the stuff of legend. However, his rivalry with Mr. Anderson remains underrated.
ADVERTISEMENT
Article continues below this ad
Kurt Angle remembers his steel cage classic against Mr. Anderson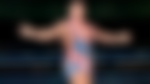 ADVERTISEMENT
Article continues below this ad
At TNA Lockdown 2010, Kurt Angle and Mr. Anderson met in a brutal steel cage match for the ages. Anderson, better known as Mr. Kennedy and one of the most charismatic talents of WWE's Ruthless Aggression era, was carving his niche in TNA.
The feud between Angle and Anderson began when the latter ripped out the former's dog tags. For disrespecting the armed forces, Angle promised to make Anderson pay. However, Anderson beat Angle in a #1 contender's match, which meant he held the upper hand against the Olympian.
Angle got revenge at Destination X, but they needed a rubber match to end their feud effectively. This match came at Lockdown 2010, when Angle and Anderson met in a brutal steel cage war. Steel cage matches can be boring if not executed properly, but this one featured some intense wrestling and one incredible spot.
During the match, Angle hit a massive moonsault from the top of the cage, landing square on Anderson's head. Both men were busted open after that move, and the finish came soon after. Angle choked out Anderson with his Olympic medal and exited the cage to win the match.
While the match was outstanding, it is famous for a notorious reason.
Perc Angle
ADVERTISEMENT
Article continues below this ad
Kurt Angle's journey in the wrestling world is a testament to the hardships faced by athletes. From dealing with injuries to getting surgeries and even addiction to painkillers, Angle's journey had it all. During his run, he was even referred to as 'Perc Angle', meaning he wrestled while under the influence of pain pills.
Angle's struggles with addiction led to his release from WWE. Once he joined TNA, these problems did not escape. Angle often wrestled while under the influence of painkillers and pain pills, and the tweet he posted is regarding that as well. Fans did not hold back with the Perc Angle comments on his post.
Fortunately, Kurt turned his life around and has been clean for a little under a decade. He deserved his Hall of Fame induction and one final run in WWE, before retiring for good and telling us some unheard anecdotes on his podcast.
ADVERTISEMENT
Article continues below this ad