Kurt Angle Reveals How Hard It Is To Lift 360 Lbs Mark Henry During a Match
Published 05/10/2021, 9:30 AM EDT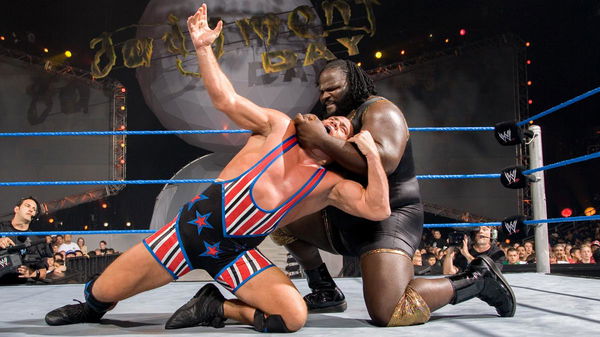 ---
---
Recently, WWE Hall of Famer Kurt Angle started a podcast, where he gives his opinion on various aspects of professional wrestling. During his latest appearance on the same, he revealed some mind-boggling facts about rival and fellow Hall of Famer, Mark Henry.
ADVERTISEMENT
Article continues below this ad
Apart from being Hall of Famers and World Champions, both Angle and Henry were Olympians. Mark Henry was a part of the USA Weightlifting team in the 1992 and 1996 Olympics. In fact, he served as the captain of the squad in the latter campaign. Unfortunately, he failed to win any medals.
Angle, on the other hand, participated in the 1996 Olympics. Unlike Henry, he won the Gold medal in the heavyweight class, despite having an injured neck.
ADVERTISEMENT
Article continues below this ad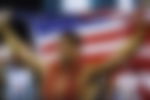 Both men had a brief feud in 2006 for the World Heavyweight title. Looking back, Angle gave some details of their rivalry during his podcast.
In one of their matches, Angle delivered a northern lights suplex on Mark Henry and won. While speaking to Conrad Thompson, Angle revealed how it was like lifting the world's strongest man.
"Of course I was nervous as hell. But Mark jumped for me really well," Angle said on the podcast. "He's a great athlete, he's so explosive, When you need to lift him, he gets very light for you, so it's not a problem."
Kurt Angle and Mark Henry both got offered the same contract
During the 1996 Olympics, Vince McMahon offered both men a 10-year contract. While Henry accepted and debuted in 1996 itself, Angle took a different route.
The Gold Medalist used to think sports entertainment was inferior to his game. However, his mind changed when he started watching RAW. Angle eventually signed with WWE in 1998 for a 5-year contract.
During one of his promos against Mark Henry, Angle reflected on their Olympic history.
In a scathing attack, Angle claimed that Henry did not win anything at the Olympics because he was slacking at a "strip club."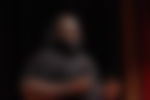 The claim was false. As Angle said, "the only reason he placed 18th in the Olympics, (because) he got hurt. He lifted just enough so the team could place, (he) didn't win a medal, even though he was expected to. He was ranked third in the world at the time."
ADVERTISEMENT
Article continues below this ad
But Angle obviously did not mention all this in the promo for the sake of the rivalry. Angle eventually won every title in WWE except the Cruiserweight Championship and garnered a cult following.
Mark Henry also became a two-time world champion and had many noted rivalries.
Check the full video of Angle talking about Mark Henry below –
ADVERTISEMENT
Article continues below this ad
Read More – Do WWE Superstars Use Real Steel Chairs During Matches?