Kurt Angle Reveals Vince McMahon Denied him a Dream Match with John Cena
Published 08/02/2020, 11:46 AM EDT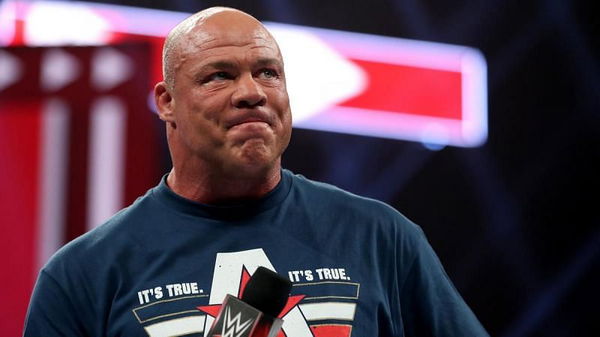 ---
---
In a recent interview, WWE Hall Of Famer Kurt Angle revealed the truth behind his match against Baron Corbin (now King Corbin) at WrestleMania 35. This match was the final one of his career, but there was a whole other side to it that we didn't know until now.
ADVERTISEMENT
Article continues below this ad
Kurt Angle returned to WWE with the hope of retiring at the company. He had two consecutive WrestleMania moments. The first one came with him teaming up with Ronda Rousey to beat Triple H and Stephanie McMahon.
ADVERTISEMENT
Article continues below this ad
His next and final appearance would be against Baron Corbin at WrestleMania 35. If you had doubts as to why Kurt Angle didn't have a match with a higher profile for his retirement, Angle himself shares the reason.
"Vince McMahon told me I had a program with Baron Corbin and I told him I wanted to retire at WrestleMania this past year and he said, 'Well, you're gonna wrestle Baron Corbin 'cause you've had a program with him for the last several months.' I said, 'Vince, I want to retire. Baron's a great talent but he's an upcoming talent, how about John Cena?'" 
Kurt Angle had no choice but to face Baron Corbin at WrestleMania 35
"He (Vince McMahon) said, 'If you want John Cena you got it. But this year you got Baron.' I said, 'Vince, I'm not going next year. I'm done, this is it.' And he said, 'Well, you're stuck with this.'"
It's hard to think that Angle was forced to pass up on his dream match. You can't really blame him for wanting to end with the same dynamic as any other legend.
He has faced John Cena earlier in his career. He is one of the few people to have made Cena tap out. It would've been so good to see them face each other again. However, it was too little too late to change the cards. 
ADVERTISEMENT
Article continues below this ad
"So I respected it (the decision), I understood why because they spent a lot of time building up Baron Corbin and we had to have a match," explains Angle. "If I wanted to continue another I could've had Cena. But I didn't wanna go a whole another year. I knew I was done."
While the coin may have not fallen in Angle's favor, he did have a glorious last match. Baron Corbin did a pretty good job to make it worth it. Going into the next part of his life, Angle does not look back in anger at anything.
ADVERTISEMENT
Article continues below this ad