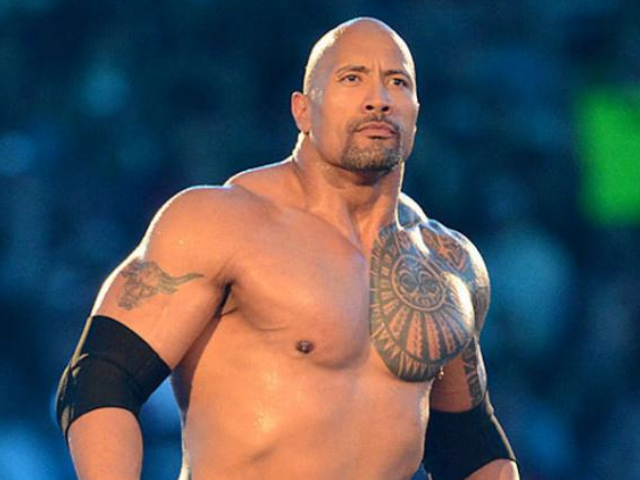 The Rock (Dwayne Johnson) is thriving in Hollywood. However, his fans still remember him to be the strong muscular man from the WWE ring.
Even though his WWE career is over and there is minimum to zero chances that he will come back to wrestling, he holds the memories of his WWE career close to his heart.
The Rock reacts to hilarious footage with Kurt Angle
Recently, The Rock reacted to footage of Kurt Angle and himself in the ring where both of them are in the middle of a match. However, very soon it takes a comical turn and the two of them keep running to the ropes.
The hilarious twist is when Kurt Angle suddenly realizes The Rock had stopped running and he was alone in the ring.
If you listen closely, you will be able to hear the moment the audience breaks into fits of laughter.
😂 the fun we'd have when we'd wrestle non-televised shows.
Btw👇🏾 is tame compared to other things we did.
Fun fact: approximately 4yrs earlier my opponent here (@RealKurtAngle) would win an Olympic gold medal 🥇 in wrestling in 1996.
With a broken neck. True story. #toughSOB https://t.co/eJA2qIGKRv

— Dwayne Johnson (@TheRock) July 31, 2020
Related: How Did Kurt Angle Win the Olympic Gold Medal with a "Broken Freakin' Neck?"
There is no denying that the two of them shared electric chemistry inside the ring. Probably it was this chemistry that led them to have fun during the non-televised shows.
The 90's era of WWE witnessed some of the great matches. Among them were some matches between The Rock and Kurt Angle that are worth watching time and time again.
The beginning of their rivalry is noteworthy
The roots of the rivalry between the two WWE legends go back to the year 2000. This was when Stephanie McMahon partnered with Kurt Angle. She appeared at the match between Angle and Rock at No Mercy.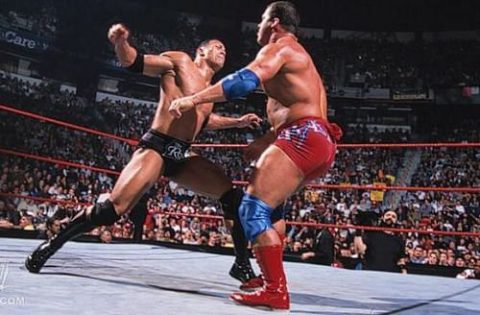 This particular match was loaded with distractions. Furthermore, Rock was already dealing with some other issues at that point with his cousin Rikishi being revealed as the mystery attacker of Stone Cold Steve Austin.
So, when the time came to defeat Angle, he wanted to use the Rock Bottom on him. Unfortunately, Stephanie intervened and he actually used it on her after taking the crowd's approval.
As expected, Triple H came running in and delivered a Pedigree to the champion before scooping McMahon and taking her backstage. With her gone, he had the chance to defeat Kurt Angle. However, Rikishi was next in line to help the Olympic Gold Medalist.
Even though Rikishi wanted to help The Rock, he ended up mauling The Rock instead of Angle. The latter took advantage of the opportunity and proceeded to perform a dual Olympic Slam. One of these was borne by Rikishi while the other by The Rock himself. Kurt Angle would go on to become the WWE Champion.
Source: Dwayne Johnson Twitter