Veteran WWE Referee Details a Life Threatening Botch Involving Brock Lesnar at WrestleMania
Published 03/06/2021, 7:30 AM EST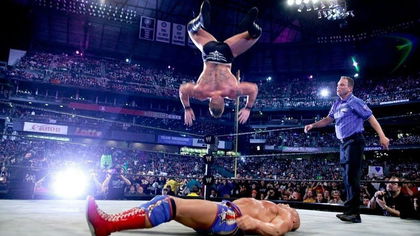 ---
---
At WrestleMania 19, a young rookie named Brock Lesnar walked into the biggest match of his life. Opposite him stood an Olympic gold medalist and possibly the most talented wrestler of all time. Kurt Angle vs Brock Lesnar fought in a tremendous back-and-forth battle, but an unfortunate botch became the most recognizable moment of the match.
ADVERTISEMENT
Article continues below this ad
Mike Chioda opens up on WWE's most infamous botch
ADVERTISEMENT
Article continues below this ad
As the match approached its end, Lesnar had Angle down for the count. He was seconds away from lifting the WWE Championship, but the Beast wanted a more spectacular ending. He ascended to the top rope and attempted a terrifying Shooting Star Press. Unfortunately, he missed Angle by a small margin, landing on his head and neck.
In an interview with Chris Van Vliet, the referee of the Lesnar vs Angle match, Mike Chioda, opened up on his reaction to the botch. His immediate reaction was, "But I'll tell you, Brock almost hit that. He almost hit it."
The Shooting Star Press was Lesnar's finishing move back in OVW, WWE's former developmental territory. Later on, both wrestlers revealed the Shooting Star Press spot was the original finish of the match.
Mike Chioda said, "We went a different direction and, yeah; I mean God, when a neck injury like that happens, you know, it's sad."
Brock Lesnar suffered multiple concussions due to the botch
Because of the botch, Lesnar suffered multiple concussions. Fortunately, he recovered soon enough to have a decent title reign.
Mike Chioda described his experience in the Seattle Dome. He also mentioned he was glad there wasn't an incident similar to Droz, a former wrestler who is now a quadriplegic.
"I remember being in that Dome, and it was a big WrestleMania moment. It was just, and I was just like, Brock is such a big dude, but he's athletic and he can do what he needed, you know. I knew he could probably get there. It was just a little bit too far out."
ADVERTISEMENT
Article continues below this ad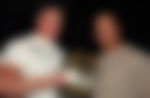 "I was looking at the distance and maybe Kurt's gonna feed in a little more, or maybe make his way in a little more or something. And he just went, and I was just like, when it happened, I just cringed. Thank God he was a big enough dude to bill it, cause I think anyone a little scrummier than him would have broken something.
"I just made sure he was okay at that time and he was kind of, he was off. His eyes were glassy, and it was like watery and glassy, and it was not right. But I remember we're getting Brock to the back and they rushed him right away to the hospital."
ADVERTISEMENT
Article continues below this ad