Lana Will Be the Sole Survivor for Team Raw – Here's Why
Published 11/09/2020, 11:14 PM EST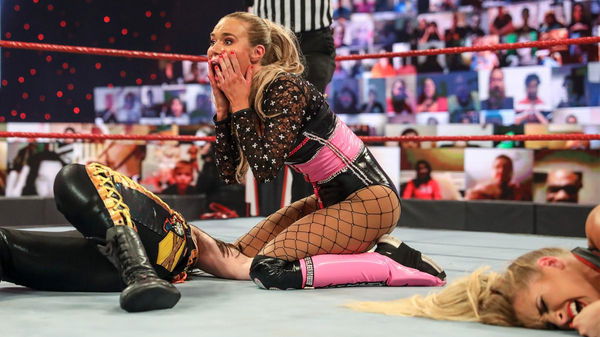 Lana has been going through a weird phase in her WWE career. Her husband Miro was signed by AEW after he was axed by WWE in spring. Now, the Ravishing Russian has been put through the announcer's table for the past eight weeks.
ADVERTISEMENT
Article continues below this ad
How will Lana affect Survivor Series match?
ADVERTISEMENT
Article continues below this ad
This week, Mandy Rose and Dana Brooke prevented Lana from going through the table again. As Nia Jax sauntered to the table with Lana on her shoulders, the duo kicked Jax's feet, causing her to drop Lana and argue with the Tag Team Champions.
With Survivor Series in nine days, Lana's role at the PPV calls for speculation. Will she will have a large and important role to play, or she will suffer another embarrassing loss?
The most likely scenario is that Lana might be the sole survivor at the Survivor Series Women's elimination match. This means she will outlast the likes of Shayna Baszler, Nia Jax and SmackDown's Bianca Belair.
The Ravishing Russian is incredibly over with the WWE Universe
WWE might be seeing huge babyface potential in the Ravishing Russian. Especially, after she was dominated by Nia Jax for eight consecutive weeks. Even though Mandy and Dana prevented her from going through a table initially, Jax still planted her later on in the show.
Lana has been given the worst treatment that a WWE superstar could receive. She managed to qualify for Survivor Series and despite that, she's been given jobber level treatment.
WWE could be trying to draw a babyface reaction from the fans towards her, similar to the reaction Rusev/Miro received in WWE. Miro was constantly buried and achieved very less in the WWE, but he was still incredibly popular amongst the fans.
ADVERTISEMENT
Article continues below this ad
Lana too holds a special place in the hearts of the WWE Universe. They loved her beside Rusev as his manager and mouthpiece. They loved her when she made a strong impression at the Money in the Bank. She has always held the WWE Universe in the palm of her hands.
WWE might lose her to AEW
ADVERTISEMENT
Article continues below this ad
WWE also might be risking Lana's future with the company; After all, her husband works for the rival company. Lana could possibly jump ship to AEW and bring some attention to Wednesday nights. Vince McMahon and WWE would be pushing Lana to keep her from leaving.
She even received a Raw Woman's Championship opportunity against Asuka, where she lost after putting up an adequate fight. While she has been victimized by Nia Jax, she has been facing Raw's top female stars, and post Survivor Series, she might be one of them.