Last Man Standing: Kevin Owens Flattens Roman Reigns With a Powerbomb Through a Table
Published 01/22/2021, 10:24 PM EST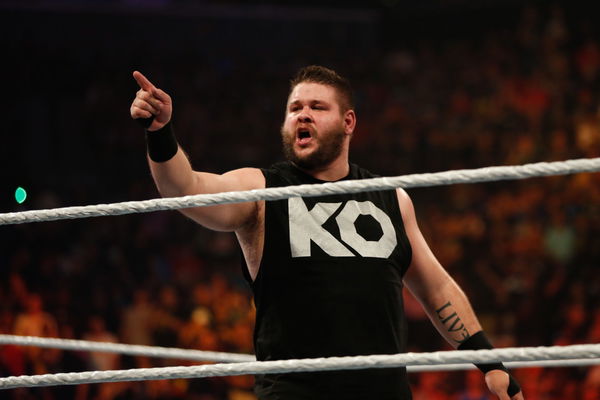 ---
---
Last week, Adam Pearce pulled wool over the eyes of Roman Reigns and Paul Heyman in spectacular fashion. The rage felt towards Pearce is hard to describe, but Reigns and Heyman hatched a simple yet effective plan to teach Pearce a lesson. However, Roman was the one at the end of a beat-down, courtesy of Kevin Owens.
ADVERTISEMENT
Article continues below this ad
Adam Pearce vs Paul Heyman leads to chaos on SmackDown
ADVERTISEMENT
Article continues below this ad
Never has a babyface dominated a heel in such fashion on regular television. Kevin Owens humiliated Roman Reigns for the second week in a row. After last week's big surprise, this rivalry needed a big brawl to showcase the hatred the two men have for each other.
Paul Heyman challenged Adam Pearce to match in the opening segment of the show. Overcome with confidence, Pearce quickly agreed and prepared himself to face the special counsel. As Heyman was making his way to the ring, he tripped, or pretended to trip on the steel steps, and declared himself unable to compete.
Heyman informed Pearce that 'cards are subject to change', before the Tribal Chief's music hit. Reigns marched down to the ring and picked apart Adam Pearce. He low blowed him and shoved him face first into the Thunderdome screens. Before he could do anymore damage, a man in a hoodie attacked Reigns out of nowhere.
Kevin Owens viciously assaults Kevin Owens
ADVERTISEMENT
Article continues below this ad
That man was none other than Kevin Owens, Reigns' opponent at the Royal Rumble. He wailed away on Reigns before rolling him into the ring. Reigns came off the ropes and went for the Superman Punch, but KO caught him in mid-air with a kick to the gut and the Stunner.
Owens kept punching away at Roman, rendering the Tribal Chief unable to catch his breath. He hit him with a second devastating stunner, which saw Reigns rebound and hit the barricade hard. After the second stunner, KO flattened Roman with a stunning Pop-Up Powerbomb through the announcer's desk.
ADVERTISEMENT
Article continues below this ad
Owens was the last man standing on SmackDown, and if he is the last man standing at the Royal Rumble, he would become the new Universal Champion. This is KO's third attempt at the Universal Championship, and might be the last attempt for a while. Will KO snatch the title from Roman, or will the Tribal Chief begin the road to WrestleMania as champion?