The lockdowns imposed by the Coronavirus pandemic have given our favourite WWE Superstars more time to engage on social media. Be it the twitch streams of AJ Styles or Miro TV by Rusev, the level of interaction is at an all time high. The latest Twitter back and forth that caught everyone's attention was between The Rock and Daniel Bryan.
If that wasn't enough to interest you, the conversation revolved around a possible match-up between the two! It all started when Bryan pit out a tweet revealing his daughter's passion for a song from Dwayne Johnson's film Moana.
I would love to do a match with @TheRock based solely on how many times my daughter has made me listen to "You're Welcome." And then of course it's stuck in my head and I sing it all day. 🙈🙈🙈

— Daniel Bryan (@WWEDanielBryan) August 6, 2020
After this interesting revealation from the leader of the Yes Movement, Dwayne decided to respond. In a hilarious spirit, he accepted the challenge and even offered to job against Bryan.
I can see the writing on this wall from miles away – I'll be jobbing again in the spirit of being a girl dad 🌺 😂 💪🏾
Let's do it.
And congrats brother on the new arrival. We're thrilled for you, Mama B and the fam 🙏🏾❤️

— Dwayne Johnson (@TheRock) August 6, 2020
Notably, Brie Bella and Daniel Bryan recently welcomed a baby boy into their family. Bryan and Brie already have a three year old daughter named Birdie, who's quite popular on social media
Read more – Dwayne Johnson Issues a Statement After Buying XFL from Vince McMahon
Coming to The Rock, the people's champion is a father to three daughters. While his eldest in a teenager now, the other too are still pretty young at four and two years old.
The Rock and Daniel Bryan have collided in the past
If you refresh your memory, The Rock and Daniel Bryan once had a pretty fun encounter in the ring. This was before Bryan became the heartbeat of the WWE Universe and was still used as a comedy act.
He was in an on-screen relationship with AJ Lee who used to portray a wild and unpredictable character. WWE decided to screen a marriage between Bryan and Lee.
As happens with all marriages that take place in the squared circle, this one was bound to crash. Lee was convinced to not go ahead with the marriage when she was offered the job of the Raw General Manager.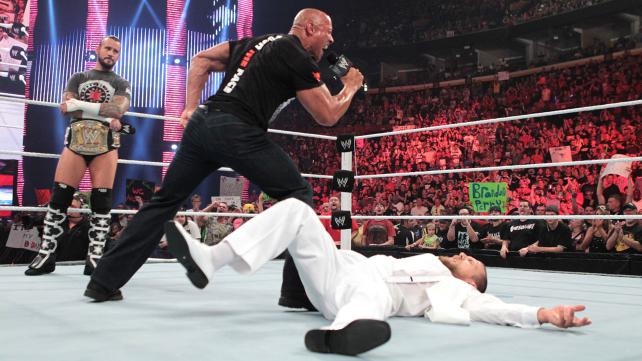 This meant that poor Daniel Bryan was left alone in the ring. To rub salt to his wounds, The Rock came out and trash talked him in his characteristic manner. He would end the night with delivering a thunderous Rock Bottom to Bryan.
Obviously, Daniel Bryan has come a long way since then. His amazing in-ring skills rallied a fan base that pushed him to become the World Champion at WrestleMania. An encounter with The Rock at this point would hold a lot more value.
SOURCE: Daniel Bryan Twitter, The Rock Twitter