"An Attack On My Integrity"- Former WWE Superstar Opens Up About Racial Insensitivity At WWE
Published 06/06/2020, 1:46 PM EDT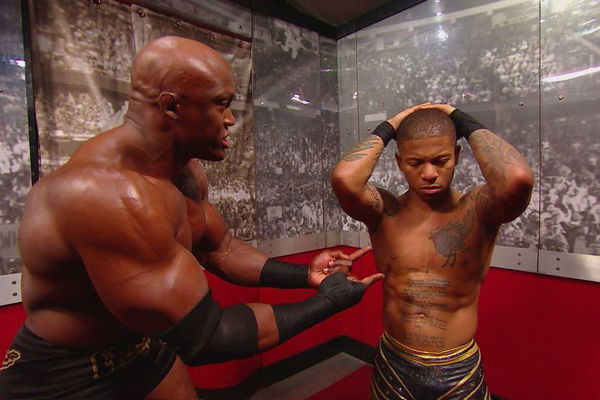 Lio Rush has up and done it again! In a post on Instagram, he replied to a 'hostile work environment' themed post by another Instagrammer.
ADVERTISEMENT
Article continues below this ad
Rush objected to one of the tasks that WWE asked him to do. WWE expects new superstars on the roaster to do chores and other work of long-term superstars once in a while.
He found this in bad taste and that as an African-American he thought it to be insulting and racially insensitive.
ADVERTISEMENT
Article continues below this ad
Rush wasted no time putting up his views on Instagram but doesn't tag WWE as a racist company. He just wanted to share an incident he thought needed attention now that the issue of racial insensitivity is being brought to light.
Lio Rush has had a very controversial career so far in the short time he's been in the WWE universe. He came under a lot of fire when he ignored the advice of Finn Bálor and Mark Henry.
His attitude and lack of respect for superiors are often brought into questioning as an issue that can ruin his career. It would mean a lot of potential going to waste.
Rush recently turned down a contract of $ 300,00 offered to him by WWE and asked corporate to double that amount.
He even took to social media to criticize WWE's recent decision to re-sign laid-off employees and superstars on lower-wage contracts, saying it was like "a slap in the face."
Lio Rush blasts WWE on social media more times than they can handle
He claims that he has been the target of a lot of hate on social media for a long time and is sick of it. Rush may be opinionated but we must consider the fact that he's a bit of a loose cannon as well.
ADVERTISEMENT
Article continues below this ad
Lio Rush takes to social media every time something displeases him in his working environment and most of the time it involves WWE. Rush is also very explicit in his posts and spares no details.
The damage to the image and awkward position he puts WWE in may not be appreciated by corporate. They might seriously be considering letting him go after all.
However, that won't be a lesson enough for Rush. He even issued a statement in which he encouraged WWE to let him go to show then what he can do!
ADVERTISEMENT
Article continues below this ad
Lio Rush may be seeking a change, but he may be taking it too far, blasting WWE twice in a week. He must tread lightly from now.
Is he right in what he says? Do we need someone like Rush highlighting the shortcomings of WWE? We can't judge. Any way you look at it, it's Lio Rush in the spotlight.