"Logan Paul Just Got a Lot Better" – Ric Flair Comments on Logan Paul's WrestleMania Debut
Published 04/17/2021, 7:45 AM EDT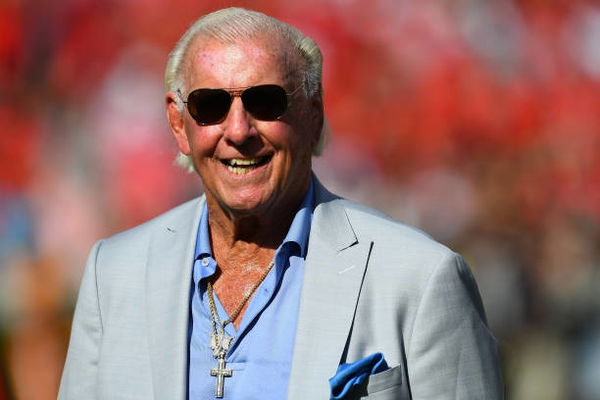 Two-time WWE Hall of Famer Ric Flair will be attending the much-awaited bout between YouTuber-turned-boxer Jake Paul, and Two Time National Champion and UFC Heavyweight Ben Askren on Saturday at Mercedes-Benz Stadium.
ADVERTISEMENT
Article continues below this ad
Ahead of the bout. MMAJunkie asked Flair his thoughts on the similarities between Triller and WrestleMania and Jake's brother Logan Paul's performance at WrestleMania 37.
"I don't think people understand if you have the opportunity to be associated with WrestleMania, WWE brand… I don't care how big they think they are, but they just got bigger," Flair said. "Logan Paul just got a lot bigger after WrestleMania."
ADVERTISEMENT
Article continues below this ad
"It's global, it's iconic, it's been around forever. They (WWE) don't spare one dime. As a matter of fact, they go the extra mile in money to provide the entertainment. The wrestlers… I mean, I've had 20 people here today, tell me how great WrestleMania was."
Logan Paul was a part of the Sami Zayn vs Kevin Owens match and received a stunner from Owens after the ending of the bout. Although Flair was only present for the second night, he did not forget to praise the youngsters.
Ric Flair weighed in on the Ben Askren vs Logan Paul bout
Flair is attending his very first Triller event and commended the "star-power." Although he does not know much about Jake Paul, he said, "He (Paul) better be tough if he's fighting a guy with a two-time National championship."
Flair, a Wrestling legend, is a fan of everything competitive, and he was glad to receive an invitation to the event. He will also be calling the SlapStrike exhibition match between United States Champion Da Crazy Hawaiian and The Bear Man.
There will be a musical performance from Co-Owner and commentator Snoop Dogg and Justin Bieber. Hence, the interviewer pointed out the similarities between the upcoming event of Triller Fight Club and WrestleMania.
"They got it all from Vince McMahon," Flair observed. "They got it all from WWE. The NBA, baseball, football, the entrances get grander. The All-Star games get bigger. The Super Bowl gets bigger, but it all started with WrestleMania."
ADVERTISEMENT
Article continues below this ad
Flair also revealed how he prefers the two-night WrestleMania weekend. As a star from the past generation and as the father of WWE Superstar Charlotte Flair, Ric loves to hang around the young athletes of today.
Hopefully, his latest endeavor with Triller will also be successful. Let us know your thoughts in the comments below.
You can check the full interview below –
ADVERTISEMENT
Article continues below this ad