Logan Paul Puts His Hands on Kevin Owens, Associates Himself With Happy Corbin on WWE SmackDown
Published 09/03/2021, 10:40 PM EDT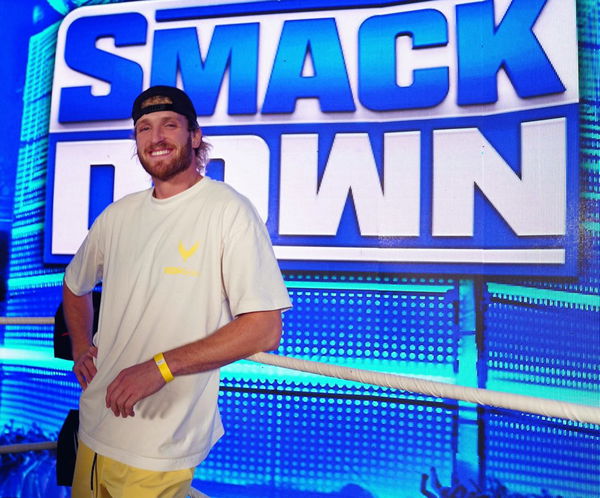 ---
---
Look at how the tables have turned for Baron Corbin. From begging his co-workers for petty cash to wearing a top-notch suit and a hat inside the ring. Baron Corbin is a guest on Kevin Owen's talk show, but he has a surprise (Logan Paul) for Owens.
ADVERTISEMENT
Article continues below this ad
Seems like the "poor" days are behind for Corbin and he had a "Thank you" speech prepared for Kevin Owens on tonight's episode of WWE SmackDown on FOX.
ADVERTISEMENT
Article continues below this ad
Watch this story: Edge To Kevin Owens: WWE Superstars Who Shockingly Defeated John Cena.
Baron Corbin says 'Thank you' to Kevin Owens
Kevin Owens came out for another must-see episode of "The KO Show" where his guest is "Happy" Baron Corbin.
Right off the bat, Corbin thanked Owens for motivating him to work hard for his money. He said that he wouldn't be wearing a $900 shirt if it wasn't for him.
"Kevin, thank you so much for having me on the KO Show. I am so happy you invited me on your show because I wanted to thank you. I wouldn't be where I am today, wearing a $900 shirt, $1400 shoes, and $53,000 watch, if it wasn't for you."
Baron further added that it was all possible because Owens beat him to stop begging around for money. However, after he was beaten, he stole Big E's money in the bank contract, which led to a match at SummerSlam in Vegas.
"If you hadn't beaten me in a match where I had to stop begging, I never would have stolen Big E's Money in the Bank briefcase, never would have had a match with Big E at SummerSlam, and I never would have been in Vegas." 
Corbin then revealed that he had a special guest invited to Owens' talk show. And it was none other than Logan Paul!.
Logan Paul gets his hands dirty
It seems like Logan Paul and Baron Corbin had time to mend their relationship because, after Corbin lost to Big E at SummerSlam, Logan dissed him because of his "poor" condition.
Corbin admitted that he and Paul had a lot in common. Logan then added that he and Corbin spent a lot of time together when they were celebrating Jake Paul's (Logan's brother) victory against Tyron Woodley.
Owens then dissed Logan Paul by calling him, "most egotistical, self-centered, useless, and unlikable geeks". He then pulls out a $100 bill, which Owens once handed to Corbin when he was poor.
KO said that he doesn't need his money and wants Logan to step out of the ring and walk away. Things get heated when Kevin slaps Logan's hand away and he shoves Owens.
ADVERTISEMENT
Article continues below this ad
Surprisingly, Corbin attacks Owens, and while he was down Logan drops the $100 on him, saying, "You're not that guy, pal." before they walked out of the ring.
ADVERTISEMENT
Article continues below this ad
The Corbin-Paul pair seems like the most unique thing WWE has done in recent memory. With this "rich" gimmick, Baron Corbin can really portray a prominent character as a heel.