Matt Riddle Takes a Huge Shot at WWE Legend Goldberg
Published 01/20/2021, 1:03 AM EST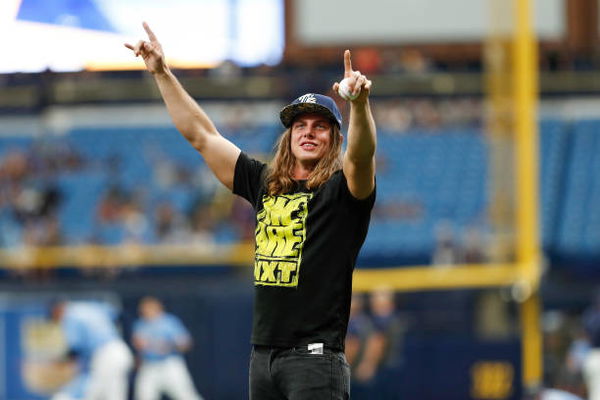 ---
---
On Monday Night Raw, we expected Goldberg to be the guest on Miz TV, but what we got was severely underwhelming. Miz and Morrison had Gillberg come out to the ring and mock Goldberg, which also included a New Jersey Drew McIntyre. The fans were disappointed, but Matt Riddle was absolutely thrilled with Gillberg being there instead of the former WWE Universal Champion.
ADVERTISEMENT
Article continues below this ad
Why does Matt Riddle dislike Goldberg?
ADVERTISEMENT
Article continues below this ad
Matt Riddle has had his issues with Goldberg in the past. He has repeatedly called him out, insulted his style of wrestling, and has gone so far as to copying his signature moves in NXT. His issues with Goldberg started after the infamous showdown with the Undertaker in Saudi Arabia.
The match in Saudi Arabia was full of potentially deadly botches. Goldberg nearly broke the Deadman's neck as he dropped him right on his head while delivering a Jackhammer. Even though Undertaker was not gravely injured, the match had to be ended soon via a single chokeslam. Goldberg also knocked himself silly on the turnbuckles while going for a Spear.
I love Pro Wrestling so much and that's why I get mad at certain people because they're unsafe, dangerous and a liability to everyone else, I've worked hard to get where I am and this is only the beginning!
PS @undertaker is a stallion and is a true legend pic.twitter.com/WotacyNOre

— matthew riddle (@SuperKingofBros) June 8, 2019
Riddle put out a tweet praising Undertaker and admonishing Goldberg for what transpired. The former NXT superstar also criticized Goldberg in an interview with TalkSport.
"One of the reasons I was never a fan of Goldberg in the beginning when everybody was like 'oh, he's so good!' I was like 'no, he's terrible, he's hurting people' and there's nothing else. He just has three-minute matches."
The Bro is a fan of Gillberg
ADVERTISEMENT
Article continues below this ad
While he may not be a fan of Goldberg, Riddle is definitely a fan of Gillberg. The parody of the most dominant wrestler in WCW history returned to WWE for the special edition of Miz TV. He has been one of the most entertaining wrestlers of all time, even though he's mostly useless.
Riddle called Gillberg a stallion, and that he is ten times better than Bill Goldberg. While that is a disputed claim, it is a pretty open shot at the former Universal Champion.
It is shocking that their paths haven't crossed backstage at Raw. WWE would have to be kidding themselves if they have to ensure one man does not cross paths with the other.
ADVERTISEMENT
Article continues below this ad
Both Riddle and Goldberg seem to have their work cut out for them at the Rumble. While his match with Bobby Lashley is not yet confirmed, we might see Riddle challenge for the United States Championship. As for Goldberg, he has a date with the WWE Champion, and he will look to beat some respect into him.