"That Was Really Scary"- Michelle McCool Opens up about The Undertaker's fight with Goldberg
Published 05/10/2020, 9:59 AM EDT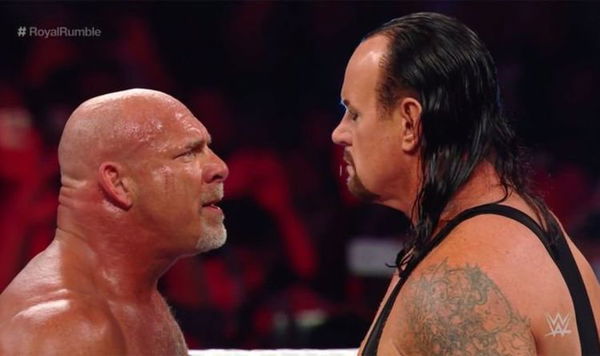 ---
---
Michelle McCool, the wife of WWE Superstar and perennial legend The Undertaker, spoke about his fight with Goldberg early last year. Michelle laid out the physical and mental state of her husband coming out of the showdown in Saudi Arabia.
ADVERTISEMENT
Article continues below this ad
The Undertaker, or Mark Calaway, as he is known by his family had just finished his match with a truly intimidating foe. The 30 year WWE veteran managed to beat Goldberg after a grueling 9-minute bout in the Saudi heat.
Enduring multiple spears and suplexes, he looked like he had spent the last of his will in the ring.
ADVERTISEMENT
Article continues below this ad
The aftermath of The Undertaker – Goldberg Fight 
"That was really scary for me. Obviously knowing the business, as soon as I saw that I texted our doctors. I was like, 'Is he OK?' Because it looked bad. You're centimeters away from doing some real damage. So I knew it was bad. Mark has literally been caught on fire, stood in a pod for 40 minutes, and wrestled another 40 minutes. He's busted up both eye sockets in matches. He normally responds with, 'I'm good, babe, I'm good.' So after that match when I talked to him and I think his exact words were, 'My back is jacked up. My neck is jacked up.' I was like for him to put that into words and verbally tell me truly how he's feeling, it was just I couldn't imagine the pain. said McCool, referring to her husband's poor physical condition after the match. 
The fight had taken a heavy toll on The Undertaker, 54 years old at the time. McCool wanted The Undertaker to fight wrestlers who would be safe in the ring.
ADVERTISEMENT
Article continues below this ad
When asked about whether the Goldberg fight would change who The Undertaker faces in the future, Michelle responded, "If they need him on the card, he's gonna be sitting by the phone waiting. If Vince (McMahon) calls and he needs to pull him out of the bullpen he'll be ready go"
The Aging Superstar
The Undertaker's career through the WWE has been exciting, to say the least. Spending 30 years in the ring undoubtedly took a toll on him, said Michelle. Tough matchups with seasoned veterans like Goldberg shows his body struggling to keep up with the time.
ADVERTISEMENT
Article continues below this ad
On aging wrestlers and their performances in the ring, Michelle said in praise of AJ Styles, "A.J.'s not one of the youngest guys but he's dang sure somebody you want to get in the ring with because you know he'll be safe and put on a heck of a match."
The interview was taken while promoting the documentary series "Undertaker: The Last Ride", airing Sunday, 10:00 pm PST.