Murphy Kisses Rey Mysterio's Daughter in Scandalous WWE SmackDown Segment
Published 10/31/2020, 12:18 AM EDT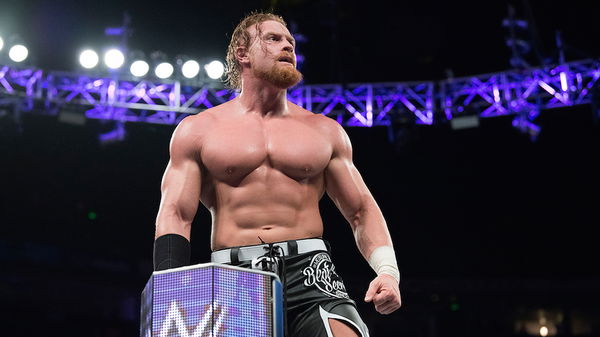 ---
---
The Murphy/Rollins/Mysterio saga took another wild turn on Smackdown. What started as a blood feud between Seth Rollins and Rey Mysterio has transformed, or rather descended, into something really weird. What started on Monday Night Raw in May is not exactly ending on Smackdown with Survivor Series on the horizon.
ADVERTISEMENT
Article continues below this ad
Rey Mysterio's daughter Aalyah has fallen in love with Murphy. Seth Rollins' former acolyte has also expressed his feelings towards the youngest member of the Mysterio family. For their love story to continue, Aalyah seeks the approval of her father and her brother Dominik.
Murphy decides to issue a public apology to the Mysterios
ADVERTISEMENT
Article continues below this ad
In a backstage segment, Aalyah told Murphy that her mother wants her to be happy, but her father and brother are not speaking to her. Murphy said that to do so, he would issue a public apology to the Mysterio family in the ring.
Murphy and Aalyah walked out into the ThunderDome and he explained his wrong-doings against his new girlfriend's family. After he finished listing his crimes as Seth Rollins' disciple, he asked Rey and Dominik to come down to the ring to apologise to them face-to-face. Instead of Rey Mysterio, Seth Rollins walked out to confront his former disciple.
"Rey and Dominik will never accept you as you are or more importantly, whatever's is going on between you and Aalyah," said Rollins. He explained to Murphy that he will accept him and her, irrespective of her last name.
Seth even offered to get them married right away. He told Aaylah that her father was not being overprotective, but was controlling her, and even called her brother a coward.
Aalyah declares her love
Seth's final statement drew the ire of Dominik Mysterio who attacked Rollins from behind. They brawled until Murphy pulled Dominik off Rollins and wailed away on Seth himself. Dominik and Murphy engaged in a shoving contest before Dominik hit him with a cracker of a right hand. Just as Murphy took Dominik down, Rey Mysterio's music hit.
ADVERTISEMENT
Article continues below this ad
Rey looked to hit Murphy with the 619 but Aalyah got in the way. Mysterio was taken by surprise and implored her to leave the ring with them.
Aalyah refused to go with her father and brother, and in the process, declared her love for Murphy. The two kissed and embraced in the ring as Rey and Dominik looked away in disappointment.
ADVERTISEMENT
Article continues below this ad
At the top of the stage, Seth Rollins was smiling from ear to ear after watching his handiwork. The former Monday Night Messiah will be reveling in the rift his former disciple has caused in the Mysterio family.
Blinded by love, Murphy has fallen into that same rift. It is to be seen where this story progresses.