"My Body Was Breaking Down" – WWE Hall of Famer Kurt Angle Reveals Why He Had a Short Match at WrestleMania 35
Published 02/25/2021, 6:30 AM EST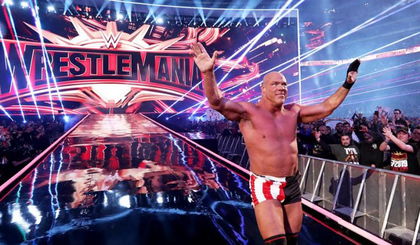 ---
---
Kurt Angle is a true American Hero. The 1996 Olympic Gold Winner had an incredible wrestling career, both in WWE and TNA.
ADVERTISEMENT
Article continues below this ad
Coming to his WWE career, Angle wrestled his retirement match at WrestleMania 35, in what he called a 'filler' match. But it's not in bitter sentiment, and Angle says he understands why he was used in that way.
Kurt Angle says his retirement match at WrestleMania 35 was just a filler
ADVERTISEMENT
Article continues below this ad
The 'Olympic Hero' recently talked about his retirement match at WrestleMania 35 on the latest episode of the Kurt Angle Show. During the podcast, Angle revealed that his match with Baron Corbin at WrestleMania 35 was only a filler match.
The WWE Hall of Famer has no harsh feelings for Vince McMahon or WWE. He understood why WWE gave him six minutes. In fact, he was more than happy to have a retirement match at WrestleMania, even though it was not against the opponent he wanted, John Cena.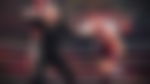 He said, "I also understood when you're in the business as many years as I am, you realize what each match is for and what it represents."
Filler matches are those that give the audience a breather between two high-octane, main event matches. Angle's match preceded the Triple H-Batista match and was succeeded by another filler match between Balor and Lashley before the main event.
ADVERTISEMENT
Article continues below this ad
"I understand why they did it. My body was breaking down and I couldn't go at the level I used to. So I think that Vince McMahon gave me the retirement match, not that I exactly wanted, but I needed and I was just happy to have the match. But, it was a filler match. It was between two main event matches. And it was what it was!" Angle continued.
John Cena appeared on the show confronting Elias as the 'Doctor of Thuganomics.' Sadly, a confrontation between the two never happened. Honestly, Cena retiring Kurt Angle made perfect sense, but we don't know why it never happened.
Would you like to see Kurt Angle step in the ring for another match? Let us know in the comments below!
ADVERTISEMENT
Article continues below this ad