"She Is a 6'1″ Samoan Princess That Will Kick Your A**" – Natalya Lavishes Praise on WWE Superstar Tamina
Published 01/18/2021, 12:13 AM EST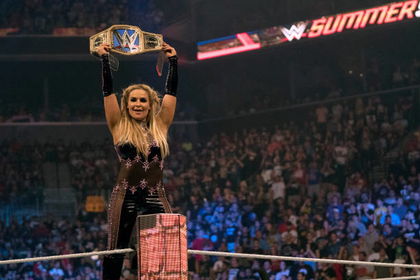 ---
---
In the list of second and third generation superstars, Natalya and Tamina's name is quite noticeable. Both stars hail from two of the most famous wrestling dynasties of all time, the Hart family and the Snuka bloodline. On SmackDown, Natalya and Tamina put the entire locker room on notice, but that wasn't the most peculiar part of the interview.
ADVERTISEMENT
Article continues below this ad
Natalya praises Tamina on SmackDown
ADVERTISEMENT
Article continues below this ad
"I think Tamina would agree that our experience makes us very dangerous. We come from the greatest bloodlines in the world." Natalya's words are true. She descends from a family of the best Canadian wrestlers in the world.
Her father was Jim 'the Anvil' Neidhart, a multi-time tag team champion all across North America. Her uncles, Bret and Owen were two of the biggest stars in the WWF, winning World Championships, Intercontinental Titles and King of the Ring.
"And then, you think about Tamina Snuka. Her father is also a Hall of Famer. So, it's just natural that this greatness just comes together."
Tamina is the daughter of the legendary Jimmy 'Superfly' Snuka. Apart from being the first victim in the Undertaker's Streak, Snuka was quite the wrestler in his time. His Superfly Splash finisher has been replicated by many younger superstars.
The Canadian superstar is proud of Tamina
"I feel like Tamina has been very held down, and that's about to change. When you align yourself with the B.O.A.T.–best of all time–it really changes the perspective of everything."
ADVERTISEMENT
Article continues below this ad
The arrogance is oozing out of the Queen of Hart's, but she is putting over Tamina quite well. This might be one of the few times the Samoan has looked as relevant as her cousin Nia Jax.
"And Tamina is destined for greatness. I am incredibly proud to have somebody like her watching my back. She is a 6'1″ Samoan princess that will kick your ass."
Maybe, Tamina's time for achieving the greatness Natalya speaks of is long gone. Snuka is not terrible, but is quite sluggish and can only execute a few moves. She is, however, relatively safer in the ring that Nia Jax.
ADVERTISEMENT
Article continues below this ad
Who knows how long this alliance between Natalya and Tamina will continue? Both women have declared their intentions to win the tag team titles, and the Royal Rumble. Somewhere down the line, we will see these two crossing paths.