Natalya Reveals Tyson Kidd and Sasha Banks Played Catalyst to Form a Tag Team With Tamina
Published 08/05/2021, 7:45 AM EDT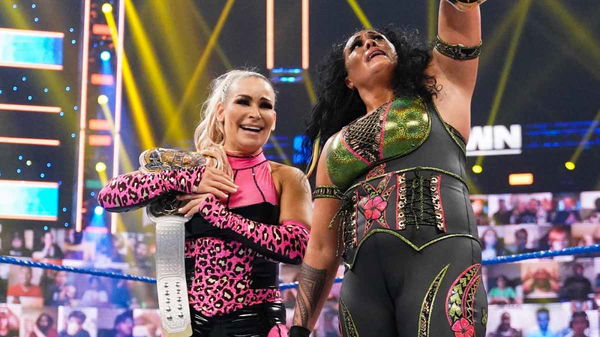 ---
---
When WWE Superstars Tamina and Natalya defeated Nia Jax and Shayna Baszler for the WWE women's tag team title, the duo became the 7th tag team to win the title.
ADVERTISEMENT
Article continues below this ad
Fans heavily criticized WWE for not putting enough effort into the women's tag team division after its emergence in 2019. But the fans received WWE's decision to book Tamina and Natalya as a team well. Natalya recently revealed the backstory behind the formation of a tag team with her friend Tamina.
ADVERTISEMENT
Article continues below this ad
Natalya reveals Tyson Kid and Sasha Banks as the reason for the origin of her tag-team
Tamina and Natalya recently joined Oral Sessions with Renee Paquette as the duo discussed their wrestling career and personal life. During the show, the Host, Renee, asked Natalya and Tamina how the pair formed a tag team.
Tamina was the first to speak as she said that it was Tyson Kid, the husband of Natalya, who pitched the idea to her, stating about both superstars' family lineage and connections. Natalya then added to what Tamina said as she confirmed that TJ was the one who pitched the idea to her.
Watch this Story- Brock Lesnar to The Rock: The Greatest Rivals of WWE Megastar John Cena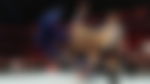 The former Divas Champion then said that she was supposed to have a heated rivalry with Sasha Banks earlier that year, but those plans got scrapped when Bianca Belair won the Royal Rumble. Natalya, who knew she would not fight Sasha, talked to TJ about it. She added- " TJ said to me, like you and Tamina need to be a tag team and he is like you guys are going to be perfect together…..You should pitch it."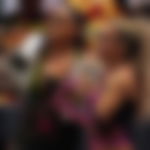 "Suddenly I went from being really sad about not working with Sasha…. [because] Sasha lit this fire in me just wanting wrestle so much. And then all of a sudden I had this new fire lit in me, and I was like, I really want to work with Sarona. I really wanted to be a team with her and TJ was the kind of inspiration behind it." Natalya added.
Nattie shares the reaction of Vince McMahon
ADVERTISEMENT
Article continues below this ad
Now in WWE, creating an idea is not the troublesome part, but getting the nod from Vince McMahon is the real uphill battle. The Chairman of WWE is the one who has the upper hand in almost every activity that happens in WWE.
So, Natalya revealed the reaction of Vince when she pitched the idea of her forming a tag team with Tamina. Nattie stated she got the nod from the Chairman. She also added that Vince has always been kind to her and always has heard her ideas even if they weren't home runs.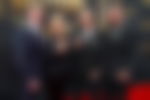 ADVERTISEMENT
Article continues below this ad
There is an excellent connection between the families of both Natalya and Tamina. It goes back to Owen Heart and Yokozuna's tag team run, The Heart Foundation, The Bulldogs, and more. Unfortunately, Natalya and Tamina, the current women's tag team champions, are in a crisis state as Natalya recently got injured. Reports suggest Nattie could be out for several weeks, and WWE could force the duo to vacate their titles.
 ALSO READ- John Cena Claims WWE Will Have an Unstable Future if They Continue Relying on Former Superstars