WATCH: Atlanta Hawks' Trae Young Receives a Million Boos at MSG for His WWE SmackDown Cameo
Published 09/10/2021, 11:09 PM EDT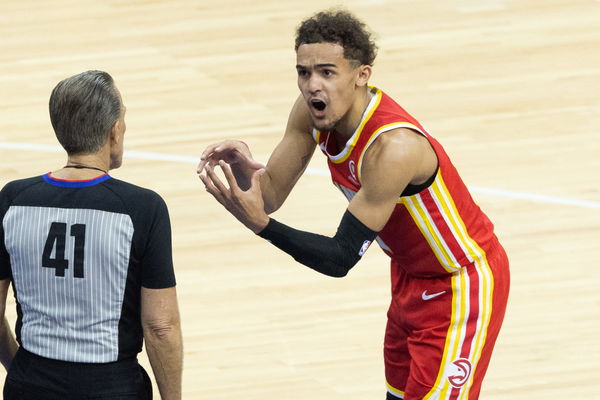 ---
---
Before the playoffs in 2021 started, the Knicks had come up as a pleasant shock for everyone. It was as if the NBA pundits were convinced that the Hawks with no home-court advantage would take a series loss. However, thanks to the heroics of Trae Young, the end result after Round 1 was a clear case of an overturn. 
ADVERTISEMENT
Article continues below this ad
Ever since then, Ice Trae is unofficially the most hated American in NY. And yet, the man had the guts and the audacity to again show up in the MSG, only that this time for WWE. The result? Big boos!
ADVERTISEMENT
Article continues below this ad
Trae Young and WWE SmackDown vs MSG and Knicks fans
On Friday night, the Madison Square Garden crowd again went bonkers when they saw Trae Young making a surprise entrance. 
Ahead of a 10-man tag team match at WWE SmackDown, wrestler Sami Zayn mocked the NY crowd by announcing his ringside support in Ice Trae, a man who knows how to win in New York. Wearing a Kevin Knox jersey, Sami introduced the Hawks point guard to the crowd as if he was introducing John Cena. 
Just as Trae came in with a rowdy look and chin-high confidence, the crowd had thumbs-down to welcome him. It was similar to how fans used to welcome Kurt Angle to his Olympics-themed instrumental music. Take a look –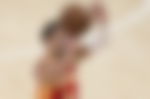 When the Hawks leader messed with Rey Mysterio
Remember the night when Trae Young staring at Chicago Bulls' Kris Dunn led to his surprise ejection? Well, this time around at MSG, Trae interfered and earned his ejection from ringside.
As Sami distracted the match referee with some tantrums, Trae took advantage of Rey Mysterio resting his neck on the ring. He wasted no time and sprinted to strangle Mr. 619 Booyaka, using the center rope. 
ADVERTISEMENT
Article continues below this ad
He was lucky that the super-agile Rey did not land his hands on him, or else his upcoming season was surely in jeopardy. However, nothing stopped Trae's proud and overexcited father from reacting with a Shawn Michaels analogy –
ADVERTISEMENT
Article continues below this ad
So what do you think, will the MSG crowd ever forgive the Hawk for his continuous provocations? Let us know in the comments section below.
Watch this story – Atlanta Hawks' Trae Young and His Most Iconic NBA Playoffs Moment