"Never Say Never": The Undertaker Breaks Down at the WWE Hall of Fame
Published 04/02/2022, 1:15 AM EDT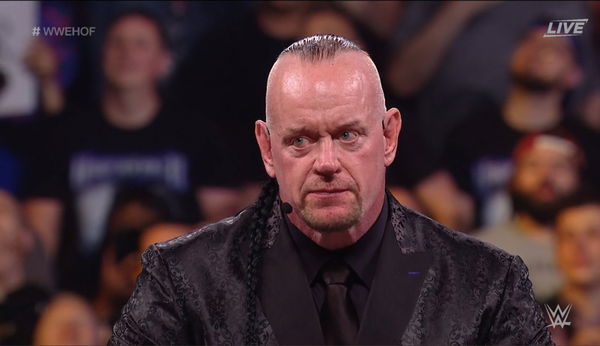 The Undertaker is now a WWE Hall of Famer. His highly anticipated speech not only delivered but exceeded expectations. The highlight of his address was not his words, but his emotions. As the crowd filled the arena with roars for the legend, Mark Calaway displayed an unseen side of himself.
To begin with, WWE Chairman Vince McMahon made his way to the ring to induct the WWE legend. 'The Boss' gave a heartfelt speech where he introduced The Phenom and recounted some old stories with The Undertaker.
Mr. McMahon, who then named all the legends The Undertaker defeated in his iconic career, spoke about how 'The Deadman' remained loyal to WWE all his career.
ADVERTISEMENT
Article continues below this ad
The Deadman made his way to the ring in one of his most iconic entrances. As he stood within the ropes, seeming on the verge of tears, the WWE Universe embraced him. The crowd chanted "You deserve it" and "Thank you, Taker."
The Undertaker finally showed the man behind the black hat and the trench coat.
One could see the tears in the WWE legend's eyes. However, the new WWE Hall of Famer composed himself and gave one of the greatest speeches in WWE Hall of Fame history. Additionally, he ended it with a massive hint about his future.
What did the Undertaker talk about in his Hall of Fame speech?
The Phenom began his speech by thanking the WWE Universe. He then talked about his legendary career, sharing personal anecdotes, including how he decided to go against his parents' wishes to chase his dream. The Deadman thanked his brother David, who inspired him to follow his passion.
The newly minted WWE Hall of Famer then thanked people from WWE who were instrumental in his career. The Deadman took some hilarious shots at his fellow "Bone Street Krew" members.
Additionally, he expressed his gratitude towards the likes of Stephanie McMahon, Triple H, and Shawn Michaels. The Undertaker also shared some fond memories with his on-screen brother Kane.
The headliner of the WWE Hall of Famer Class of 2022 ended the long emotional speech by thanking Vince McMahon for his career and their friendship. He also remembered his family and said many kind words about his daughter and wife present at the venue. However, it is the ending that left fans speechless.
ADVERTISEMENT
Article continues below this ad
The Undertaker took one of his classic outfits present in the ring and he wore it. He then said three words that sent shock waves into the WWE Universe.
ADVERTISEMENT
Article continues below this ad
The Undertaker said, "Never say never", which could indicate a possible return down the line. After this, 'The Deadman' exited the squared circle with his adoring fans giving him a standing ovation.
Watch this story: Greatest Rivals Of WWE Legend The Undertaker
Edited By: Reubyn Coutinho