New Champion Crowned at WrestleMania 37! Rhea Ripley Beat Asuka in an Action-Packed Match
Published 04/11/2021, 11:47 PM EDT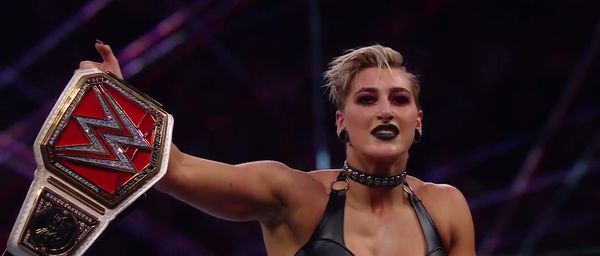 ---
---
Rhea Ripley got the sweet taste of retribution at this WrestleMania. At last year's event, Ripley lost her NXT Women's Title to Charlotte Flair, and this year, she avenged it by winning her first WWE RAW Women's Title.
ADVERTISEMENT
Article continues below this ad
In the penultimate match of the night, Ash Costello performed 'Brutality,' the entrance theme of Ripley, live as she made her way into the ring. After Asuka came into the ring, both women started the fight.
Asuka initially dominated Ripley with an early pin attempt. Following back-to-back offenses, Ripley went to the ringside for a break, but Asuka brought her back inside the ring.
ADVERTISEMENT
Article continues below this ad
However, this time, Ripley got an opening followed by a face slam. Ripley locked the champion in a Body Scissors as fans booed. As "The Nightmare" attempted to hit a clothesline, Asuka locked in an ankle lock.
Ripley broke the lock with a German Suplex for a near-fall. A series of offenses from both sides followed inside the ring.
Rhea Ripley wins the Women's Title
Eventually, Asuka went to the top for a splash, but Ripley knocked her out from the top rope with a DDT, making her hit the apron. Soon, the women fought it out at ringside as the referee counted till 6.
Back in the ring, Ripley applied the inverted Cloverleaf submission, which Asuka turned into an armbar. Another close-count followed, with a huge suplex from the apron to the ring from Ripley to Asuka.
As the match came to a close, Asuka locked in the Asuka Lock and tried to follow it up with a running boot. Ripley swiftly hit the Riptide and won her first WWE RAW Women's Title.
ADVERTISEMENT
Article continues below this ad
Celebrations poured in all around the arena as Pyro went off. Asuka could not believe she lost the title after almost a year. Interestingly, both Asuka and Ripley are NXT alumni along with SmackDown Women's champion, Bianca Belair. 
Rhea Ripley is bound for glory, as she ushered in a new era in WWE Women's division. She is also one of the few people to win a women's title on her main roster debut at WrestleMania.
Let us know your thoughts regarding the match in the comments below. What are your expectations from the new champions crowned at WM 37?
ADVERTISEMENT
Article continues below this ad