Nia Jax Opens Up on a Hilarious Botch on WWE Raw
Published 12/03/2020, 7:01 AM EST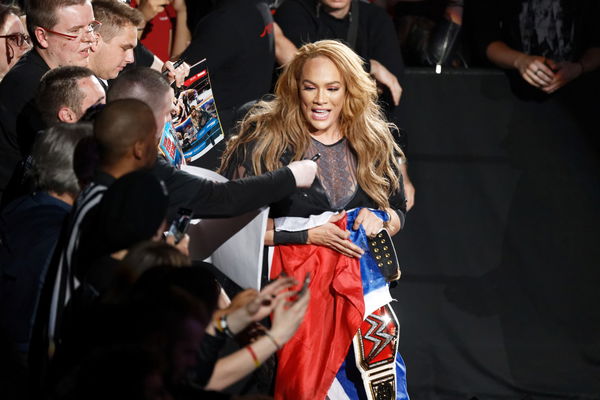 ---
---
Nia Jax has responded to fans trolling her for the obvious botch that occurred at the latest episode of Monday Night Raw.
ADVERTISEMENT
Article continues below this ad
The plan was that Jax will charge towards Lana, the latter will pull down the middle rope, and Jax will fall outside the ring. Unfortunately, Lana pulled down the rope too early, but Jax went with it, anyway.
This resulted in an awkward situation where it looked like Jax charged at nothing. It was obviously a botch.
ADVERTISEMENT
Article continues below this ad
The fans did not miss this and have been trolling and questioning it ever since.
Nia Jax comes back with a hilarious response
To retaliate, the Superstar has comically explained the unfortunate situation. She referred to R-Truth's invisible friend, Little Jimmy.
Later, when a fan asked Jax not to hurt Little Jimmy, she claimed that it was too late for that.
Who is Little Jimmy?
It was back in 2011 that Little Jimmy was first heard of. R-Truth harassed a young fan and his father on Raw. The following week, he came out singing while apologizing for his actions.
This is when the gimmick came to life and since then he has been pretending to have the imaginary friend with him at all times.
ADVERTISEMENT
Article continues below this ad
It's been a while since the WWE Universe heard about Little Jimmy. Therefore, in an interview with WWE's The Bump, he revealed where the kid is now.
"It's embarrassing, you know man. It's like bro he done got locked up man.. in juvenile camp. So it's like we taking up money now to get him out. Bro, he just went down the wrong path like a lot of kids and a lot of them get influenced and peer pressured by a lot of different stuff and different people and stuff around him and things like that. He just got peer pressured and influenced by the wrong things, man. We gonna get him out and get him back the right way, you know what I'm saying? Get him back to the light. Some people need a lot of guidance, man, you know what I'm saying?"
ADVERTISEMENT
Article continues below this ad
Maybe the WWE Universe will see the return of Little Jimmy soon! What do you think? Let us know in the comments.