No. 1 Podcaster In the Word Logan Paul Reveals His First Interaction With Billionaire Vince McMahon: "Looked At Him Straight In The F*cking Eyes"
Published 05/18/2022, 7:30 AM EDT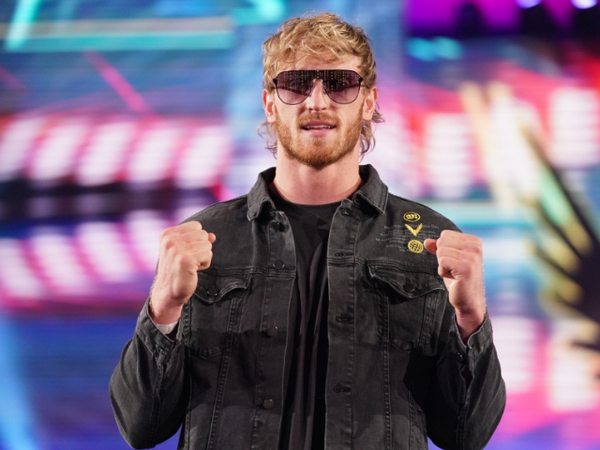 Vince McMahon has made a tradition of getting celebrities at every WrestleMania. Celebrities like Muhammad Ali, Mr. T, Mike Tyson, etc have appeared in WWE in the past. Now, Bad Bunny and Logan Paul are the latest to appear at Mania and also have a match at "The Grandest Stage".
The recent WrestleMania 38 saw Logan Paul have a match. He teamed with The Miz to fight against The Mysterios. Logan Paul kept the bar hanging on top with the performance he gave at WrestleMania 38.
ADVERTISEMENT
Article continues below this ad
Recently, Logan Paul, on the 326th episode of his IMPAULSIVE podcast on YouTube, discussed current affairs in various industries. By the end of the episode, he shared the words he told about himself to WWE Chairman Vince McMahon.
Logan Paul said, "I sat at the WWE, the executive chair office with Vince McMahon and Co the other day. Looked at him straight in the fu*king eyes and said, 'I'm the host of the number one podcast in the world Vince.' (He said) Nothing."
It seems Logan Paul was very confident while meeting Vince McMahon. The YouTube sensation had already decided to have a great conversation ahead with the Chairman of WWE.
Watch this story:-  From Being An Ice Hockey Fan to Hunting : Brock Lesnars Favorite Hobbies Outside WWE
Vince McMahon has a classic reaction to Logan Paul's introduction as the YouTuber described in his podcast. Mr. McMahon simply said nothing and got to the chief business of why they were having the meeting.
Is Vince McMahon thinking of changing the Money in the Bank stipulation?
The WWE Premium Live Event Money in the Bank is around the corner and there is some confusion over the cash-in policies. Questions were raised when in a recent commercial where Cody Rhodes said that the Money in the Bank winner will win the chance to main event WrestleMania.
The Money in the Bank contract has always been a cash-in option for the holders to have a chance to receive their title shot anytime, anywhere at a moment's notice. 
However, the phrase in the commercial by Cody Rhodes has caused confusion between writers, producers and fans.
ADVERTISEMENT
Article continues below this ad
The cash-in is a major part of the Money in the Bank idea and has been a long-term success. The fans are always eager to see when the cash-in will occur. As a result, it would be a surprise if that's removed for a single WrestleMania title shot, especially since there are nine months between the two PPV shows.
ADVERTISEMENT
Article continues below this ad
As of now, there have been no changes made to the cash-in policy by Vince McMahon. Although this subject is already in the air, Mr. McMahon is expected to discuss this issue and resolve it.