"Nobody Was Going to Take My Spot From WCW" – Kurt Angle Reveals How He Felt When Vince McMahon Purchased WCW and ECW
Published 07/14/2021, 7:30 AM EDT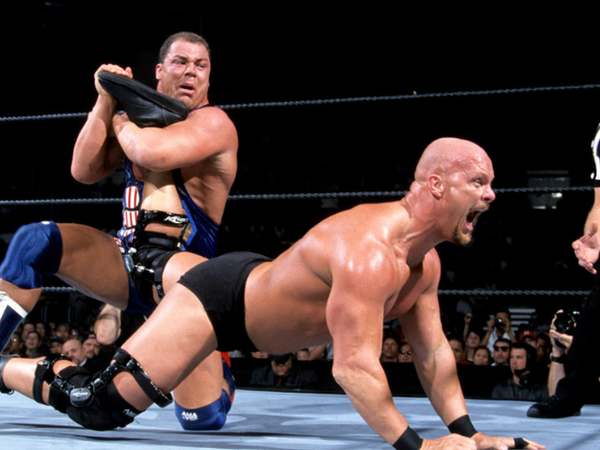 ---
---
When Vince McMahon purchased WCW and ECW, there were some pro-wrestlers who were worried about their spots. Considering WWE had their own roster, it was possible if anyone was to go, it would be wrestlers from WCW and ECW. However, one particular pro-wrestler from WCW wasn't worried about his spot, and that's Kurt Angle.
ADVERTISEMENT
Article continues below this ad
During his conversation with Conrad Thompson in The Kurt Angle Show, the Olympic Gold Medalist discussed how he felt when WWE (WWF then) took over World Championship Wrestling (WCW) and Extreme Championship Wrestling (ECW).
ADVERTISEMENT
Article continues below this ad
Angle revealed he was never worried about his spot or getting released when the acquisition happened. Nevertheless, there were times he was worried.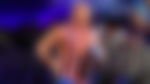 "It wasn't. But I will say this, the only time I get worried about my spot, I don't get worried while I'm wrestling, not while I'm performing, as long as I'm healthy. It's when you get injured, and you're sitting at home, you're worried about what's going on with the company and how they're progressing and you're not progressing at all because you're home with injury.. that's when I worry about my spot. Never worried about it while I was performing. Nobody was going to take my spot from WCW."
Well, Kurt Angle went into becoming a huge name in WWE, and worked with several big names of the company's roster.
Kurt Angle was a part of the main match during The Invasion
Back in 2001, Vince McMahon purchased WCW and ECW. Next, he created a storyline in WWE involving the flow of new talents from the two companies.
Two stables were formed . One was The Alliance. This was the team of pro-wrestlers from WCW and ECW. Another was Team WWF. This was the team of wrestlers who were representing WWE.
Team WWF: The Rock, Big Show, Kane, Chris Jericho, and The Undertaker.
The Alliance: Kurt Angle, Stone Cold Steve Austin, Shane McMahon, Booker T, and Rob Van Dam.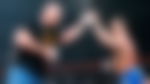 The storyline started when Shane McMahon revealed he had purchased WCW from under his father Vince McMahon's nose. As a result, several people-wrestlers from WCW started appearing for segments during Raw and SmackDown.
Finally, in June 2001, WCW and ECW pro-wrestlers merged to form The Alliance and challenge WWE over its unmatched control over the wrestling industry.
ADVERTISEMENT
Article continues below this ad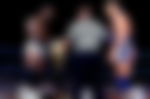 The Alliance and Team WWF battled at Survivor Series where Team WWF defeated The Alliance.
Even though financially The Invasion storyline was a success, it wasn't the same in terms of reviews. Fans and critics across the industry have termed the storyline a disappointment.
ADVERTISEMENT
Article continues below this ad