Undertaker has had the biggest matches in sports entertainment. One match everyone wished to see was The Phenom taking on John Cena on the grandest stage of them all. While most of the WWE universe was spellbound over Taker's win, his daughter wasn't really a fan of how things turned out. 
In the latest chapter of his documentary 'The Last Ride', Undertaker speaks about the incidents that took place right after his win against Cena. His daughter Kaia was happy with her father winning but also disappointed. She idolizes John Cena and watching him lose was displeasing.
"The matches that I've won, she's actually fallen asleep and missed. So she's only stayed awake for the ones that I have lost really. I think she was excited to know that I can still win a match," Undertaker said. 
His wife Michelle added that Kaia was cheering for her father but didn't like the sight of her hero losing. "She goes yay, daddy! So she was cheering for you, but she was mad that you beat John."
Undertaker then went on to make a light-hearted comment. He stated he now needs to be worried about Cena's feelings so that he doesn't hurt his daughter. He also says that it was nice to show his daughter that her father is the real man in WWE. 
"Now I gotta worry about John Cena's feelings. It was nice that I got to crush her favorite and let her know that her daddy was the man. But I was disappointed the match was only what it was."
Homecoming of The Undertaker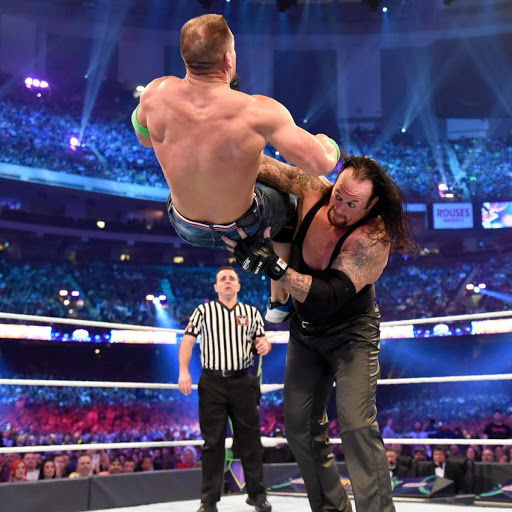 Sometimes things don't go according to plan. Undertaker had initially wanted to retire after WrestleMania 33. But Taker couldn't accept the way the match ended. He would come back the next year to accept the challenge from John Cena and that turned things around.
Undertaker's wife Michelle McCool said, "I would have liked to see him have a little bit more time and just go out there and just physically put on a show I knew he was capable of. But in the short two or three minutes, that did more for him mentally and emotionally than anything else."
The match brought what the fans missed. After a terrible game last year, Taker's performance against Cena was a good comeback. Undertaker himself shared the same thoughts.
"The fire was really lit once I came out of the Cena match. I was feeling good; I was in shape, you know. I was like, well shoot, I can work a few matches, I was ready to go."
We last saw the Phenom take on AJ Styles at WrestleMania 36 in a Boneyard match. The match was one of the best to have ever happened.
It is clear that Undertaker hasn't lost his in-ring skills. Seeing more of the Undertaker in the coming years would be nothing less than spectacular.