NXT Head Honcho Triple H Praises Poppy Following Her Performance at the 2021 GRAMMY's
Published 03/15/2021, 12:15 PM EDT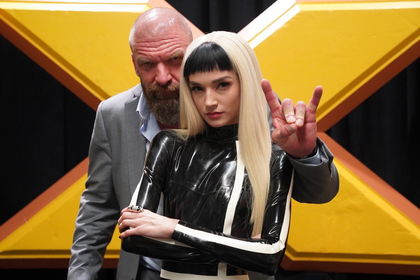 ---
---
American Electric-Metal Artist Poppy set the stage on fire at the 2021 GRAMMY Premiere Ceremony. This was the 26-year-old's first performance at the GRAMMY's, and debuted her new song, 'Eat.' Everyone watching the premiere loved Poppy's performance, including WWE NXT's Head Honcho, Triple H.
ADVERTISEMENT
Article continues below this ad
Triple H praises Poppy following an impressive performance at the GRAMMY Awards
'The Game' Triple H took to Twitter, following Poppy's impressive performance at the GRAMMY's to praise her. HHH praised Poppy's music and style. He also said that he's very happy to have her as a part of the WWE NXT Family.
ADVERTISEMENT
Article continues below this ad
Poppy and WWE NXT's association goes a long way! Her song 'Metal' was one of the official soundtracks of WWE 2K20. Not just that, but her song 'X' was the official theme song of NXT TakeOver: Portland.
Poppy appeared first for NXT in October 2019. She kicked off the show with her song 'I Disagree.' Later in the night, Poppy performed another hit, 'Scary Mask' as Io Shirai made her way to the ring.
NXT and Poppy have become synonymous with each other over the past couple of years. Her latest appearance on the black and gold brand was at NXT: Halloween Havoc in October. She performed 'Scary Mask' as an entrance theme for NXT Champion Io Shirai, again.
Being a part of WWE has always been one of Poppy's dreams!
In an interview with Spin.com, the young singer mentioned that she's been a WWE fan for a very long time. And hey, she's not just a WWE fan, but an Io Shirai fan as well! Now we know why only Io has come out to Poppy's music.
She said, "That was also one of my side dreams from a very long time ago — I wanted to work with WWE. I got the idea after I saw Paul Reubens, Pee-Wee Herman, make an appearance on WWE back in the day. They used my music in a video game and for a couple of intro songs and then invited me to play. I think I've done it three or four times now."
ADVERTISEMENT
Article continues below this ad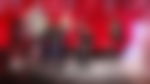 Speaking about her NXT Halloween Havoc, Poppy said, "I had to go through some pretty intensive testing and screenings because they run a very tight ship. Everyone had to wear masks — it was a whole process. But I was cleared, and it happened!"
May it be Snoop Dogg, Bad Bunny, Motorhead, or Poppy – It's safe to say that music and WWE's connection over the years has only gotten stronger.
ADVERTISEMENT
Article continues below this ad