"Oh S**t, Wow" – Dwayne 'The Rock' Johnson Reacts to His Doppelganger Police Officer
Published 08/31/2021, 7:30 AM EDT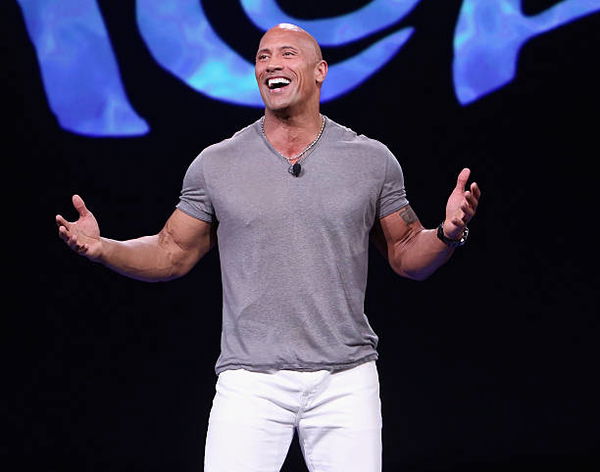 ---
---
We all have heard urban legends about doppelgangers. It seems WWE legend and Hollywood Superstar Dwayne "The Rock" Johnson have found his match! It is none other than a police officer.
ADVERTISEMENT
Article continues below this ad
Since last week, pictures of Eric Fields, an Alabama police officer, have gone viral on the internet. Fields bears an uncanny resemblance to the superstar. The pictures were first posted on Morgan County Sheriff's Office's Facebook page.
They went viral after a TikToker, 'chandlerelyse,' made a video about it. The video has garnered 1.9 million views as of now, with 358.1K likes. Thanks to Eric's huge build, bald look, and smile, it is impossible to distinguish who's who.
ADVERTISEMENT
Article continues below this ad
The viral video reached The Rock recently. The superstar was extremely excited about finding his doppelganger as he tweeted, "Oh sh*t! Wow. Guy on the left is way cooler. Stay safe brother and thank you for your service. One day we'll drink Teremana (Rock's tequila brand). and I need to hear all your "Rock stories" because I KNOW you got 'em."
You can check Rock's response below –
Watch this story: Former WWE Superstars Who Are Thriving in AEW
Who is Eric Fields, the lookalike of Dwayne "The Rock" Johnson?
As we mentioned earlier, Fields is a 37-year-old patrol lieutenant at Decatur, Alabama's Morgan County Sheriff's Office. While Johnson is billed at 6'4 and weighs 260 lbs, Eric is reported to be 6'2" and 230 lbs. Fields' Twitter account says he has 17 years of experience.
According to an AL.com report, Fields previously worked at the jail, investigated crimes, and worked with the special victims unit. Alongside this, Fields worked with drug endangered children.
Scott Stadthagen
Alabama state representative

Great guy who has a true concern for safety of the communities he serves. Rep. Stadthagen works with law enforcement to ensure they have the necessary needs to safely and professionally answer the call of public service. pic.twitter.com/ib2MGQAFkH

— Eric Fields (@EricFieldsLEO) October 2, 2020
During his service, Fields got promoted to corporal, sergeant, and lieutenant. As a part of his lieutenant duties, Fields is a firearm safety instructor and works to help novice officers with tactical training. He is also a sworn deputy U.S. Marshal.
When asked how does he respond to the comments regarding his resemblance, Fields revealed he takes it as 'a running joke'. "I've been called The Rock and Vin Diesel's love child," Fields said. "I go along with it. It's humorous. It's flattering. It could be worse people, I guess."
ADVERTISEMENT
Article continues below this ad
Fields often entertains fans and friends. "If it comes up and somebody says that, I'll play along. I really couldn't be anybody but me. I'm just glad I could be part of someone's happiness and laughter," he said.
ADVERTISEMENT
Article continues below this ad
What do you think of this uncanny resemblance? Let us know in the comments below.