"Old School Mentality" – WWE Legend Criticizes Becky Lynch Squashing Bianca Belair at SummerSlam 2021
Published 08/28/2021, 9:15 AM EDT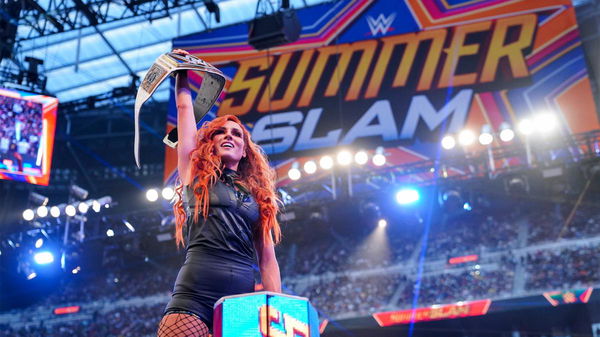 ---
---
This year's SummerSlam has been a mind blowing experience for the fans. No one would have guessed that 'The Beast' Brock Lesnar and 'The Man' Becky Lynch would make their returns on the same night.
ADVERTISEMENT
Article continues below this ad
However, Lynch's heavily anticipated return was overshadowed by her heel turn. The way she squashed Bianca Belair for the WWE SmackDown Women's Championship was abysmal. The fans are still contemplating what went down that day.
Even WWE Hall of Famer X-Pac is criticized the way Becky Lynch won her championship from Belair. In his podcast, "Pro Wrestling 4 Life", Pac stated,
ADVERTISEMENT
Article continues below this ad
"Bianca is on her way to becoming a MEGA star, and a lot of people are really drawn to her. In this age, you can't do something like that to people. You used to be able to do it before. That's why I was saying it's like old school mentality. But now everyone knows what's going on. The fan base is currently incredibly polite. And I heard WWE compare itself to Marvel. But Marvel, when it comes to fan service, they are amazing. They don't do this kind of thing." (H/t Super Luchas)
Pac feels that WWE just cannot do this kind of thing to the fans. He admits he is a huge Becky Lynch fan, an enormous one at that. The Hall of Famer praised Becky for sticking through her promo even when she was bleeding from her nose. X-Pac is still a huge fan of hers, but this did her no favors. He believes Bianca is a thoroughbred. Therefore, it was totally unbelievable that someone in that battered cast defeated her so quickly.
Watch This Story – CM Punk, Brock Lesnar And More: Shocking Debuts And Returns From WWE And AEW

ADVERTISEMENT
Article continues below this ad
It was a bad idea to make Becky Lynch squash Bianca Belair at SummerSlam
The whole idea of Becky squashing 'The EST of WWE' was a total mess any way you look at it. It was great to see The Man back in the ring, but all expectations came plummeting down by how WWE switched title holders.
ADVERTISEMENT
Article continues below this ad
There are many fans who feel it wasn't the right thing to do. They did not even get to see a proper SmackDown women's championship match. What is WWE's plan moving forward? Comment down below what you think it might be!