"One of the Best Athletes of All Time" – Ric Flair Showers High Praise on Brock Lesnar
Published 05/14/2021, 8:30 AM EDT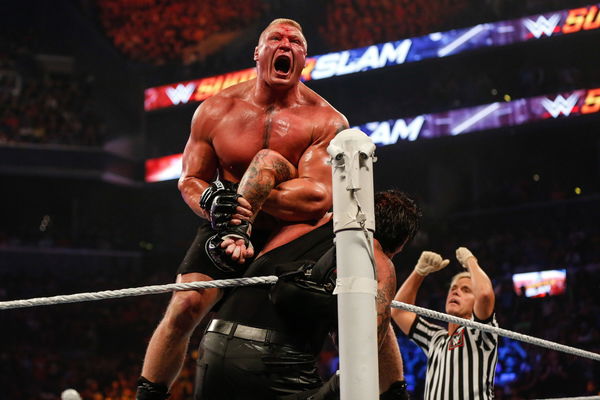 ---
---
We all know Brock Lesnar as the 'Beast Incarnate.' Moreover, his actions inside the ring prove why he's called that. From football to WWE and even UFC, there is absolutely nothing Lesnar hasn't done in the world of professional sports. As per a sizeable fanbase, he is one of the greatest athletes ever, and the 'Nature Boy' Ric Flair relates to this sentiment.
ADVERTISEMENT
Article continues below this ad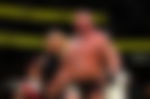 Brock Lesnar has a fan in Ric Flair!
ADVERTISEMENT
Article continues below this ad
The 'Nature Boy' recently joined Ariel Helwani's MMA Show on ESPN MMA for an interview. During the interview, 'Naich' discussed a lot of things, including how and when he watched his first MMA fight in person.
After detailing that, Flair namedropped a couple of WWE Superstars and praised their MMA careers, including Brock Lesnar.
Ric Flair said, "To see Brock go back & forth, and just be this phenomenal athlete. He may be the best athlete I've ever seen, if you look at it from our perspective. I'm not saying he's better than Deion [Sanders] or better than Bo Jackson, but the way we measure things, you and I, there is no denying that Brock Lesnar is one of the best athletes of all-time. He almost made the Minnesota Vikings. I mean, come on."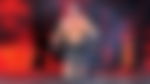 Brock Lesnar is undoubtedly the calmest beast one will ever see. He is rarely seen outside the ring, but when he is inside the ring, there is no one who can come for his opponents' aid.
The former WWE Universal Champion hasn't been on WWE programming since WrestleMania 36 last year. In fac t, it was reported that Lesnar's WWE contract had expired, and the two parties (him and WWE) had not come to terms on another deal.
However, one thing is certain; he isn't going to any other promotion.
ADVERTISEMENT
Article continues below this ad
According to recent reports, Brock Lesnar has not even conducted talks with any other wrestling promotion. Finally, even AEW is not interested in the 'Beast Incarnate'. One thing is for sure; whenever he decides to return, it will be in WWE and nowhere else.
WWE has the purse to afford Brock Lesnar's big fat contract. Plus, they already know what he brings to the table.
ADVERTISEMENT
Article continues below this ad
So, it won't be a shocker if they bring him back once fans return to arenas. After all, if Brock Lesnar is going to show up, you can't have an empty stadium or limited seats, right?