"One of the Best Technical Workes in the Business" – WWE Hall of Famer Recalls His First Impression of a Young Brock Lesnar
Published 01/29/2021, 7:30 AM EST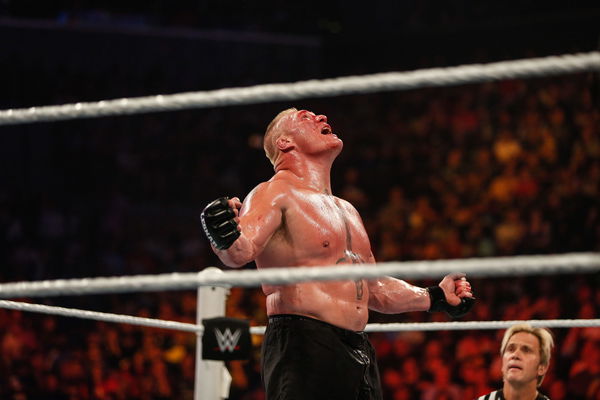 ---
---
Brock Lesnar is known as the 'Beast Incarnate' for a reason. His achievements in WWE and UFC have garnered him worldwide popularity and a reputation as one of the best combat athletes of all time.
ADVERTISEMENT
Article continues below this ad
Recently, WWE Hall of Famer Kurt Angle returned to the world of wrestling after his WWE firing last year. This time, he has his own podcast named 'The Kurt Angle Show' with Conrad Thompson.
In the first episode of the podcast, Angle looked back at one of his most famous rivalries with none other than Brock Lesnar. The duo had a stellar title match at WrestleMania 19 (2003).
ADVERTISEMENT
Article continues below this ad
Back then, Lesnar was only starting out in the sports-entertainment business. However, Angle said he knew Lesnar would be the next big thing in the game.
"Brock had only just started like six months prior before December, and he was relatively new, but he was kicking butt. He had a big impact on the business. His work rate was incredible. He looked like a monster. He had all the tools necessary to become a hugely successful professional wrestler," the former Olympian said.
Lesnar captured his first WWE title when he was just 25 in a match against The Rock. Since his debut, he had heavyweight feuds with the likes of Hulk Hogan, The Undertaker, Hardy Boyz, and Big Show.
Angle went on, "I knew that Brock got it. He got the entertainment aspect and the work that he did. He is one of the best technical workers in the business, especially when he wants to sell for you."
Brock Lesnar and Kurt Angle's WrestleMania match was botched
In their first interaction at WrestleMania, Angle vs Lesnar was the main match from SmackDown. Angle entered the match with a broken neck and even suffered from a botched ending.
Lesnar failed to execute a shooting star press and ended up with a concussion as he landed on his head and neck. Angle covered for Lesnar with a near fall. The match ended soon as Lesnar covered Angle following a third F5 and won his second WWE title.
ADVERTISEMENT
Article continues below this ad
Angle said, "It was a cool angle. It wasn't the match that fans were hoping for. It was in my hometown of Pittsburgh. It got me to WrestleMania which was the most important thing."
Brock Lesnar also left WWE following last year's WrestleMania, but there are multiple rumors stating that he will be back at Royal Rumble 2021.
ADVERTISEMENT
Article continues below this ad