"Our Chemistry Was just Perfect"- The Iconic Undertaker-Paul Bearer Story
Published 11/09/2020, 12:19 AM EST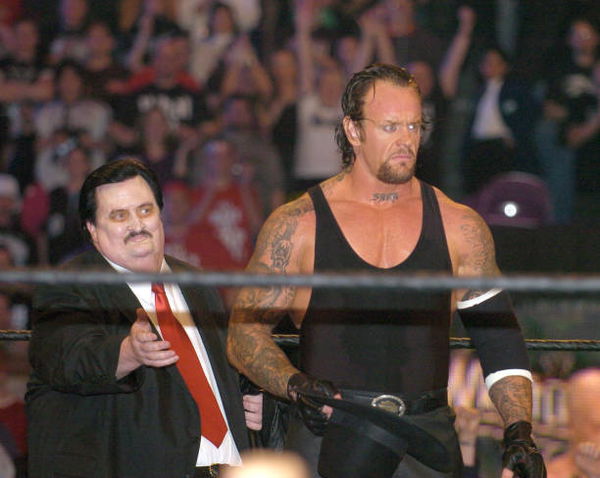 ---
---
Paul Bearer was one of the greatest managers in professional wrestling. He played the character of the Undertaker's valet and manager, just as well as Mark Calaway played the Undertaker. Along with the Deadman, Paul Bearer was also celebrated as a part of the "30 Years of the Deadman" special on the WWE Network.
ADVERTISEMENT
Article continues below this ad
Paul Bearer managed the Undertaker from 1991 to 2005
ADVERTISEMENT
Article continues below this ad
William Moody was an actual licensed funeral director. This proved to be the wind beneath the wings of the Paul Bearer character that fans know and love. He replaced Brother Love as the Undertaker's manager in 1991, which led to Taker winning his first WWE Championship at Survivor Series.
The name Paul Bearer is taken from the word pallbearer. Pallbearers are those who carry caskets and coffins at funerals. The name was given to Moody by Road Warrior Animal.
"Once we started together, our chemistry was just perfect. I just became Paul Bearer," said Moody in the documentary. Taker's former manager Brother Love also featured on the documentary, referring to Paul Bearer as the best. "It was over the top, but his character was still real. He can take you on rides, up and down, that very few people could," said Bruce Pritchard, aka Brother Love.
Undertaker and Paul Bearer had a real life kinship
Paul Bearer was synonymous with the Undertaker. Moody says, "You always saw him with me, and me with him."
Bearer became a real life manager to Undertaker, as he helped him out with car rentals, travel arrangements and hotel reservations. "There was a genuine kinship between Undertaker and Paul Bearer that you felt," said Bruce Prichard.
"Paul and I were opposite ends of a spectrum," says Undertaker. "He had a high, squeaky voice, while whenever I spoke it was low and slow. Paul had the gist of doing all the interviews and I would just come in at the end." 
Undertaker's urn had the most special significance in Paul Bearer's legendary career. Bearer recollects that he felt naked without anything in his hands, and the introduction of the urn was his own idea.
Moody's real life occupation as a funeral director made it easy for him to procure an urn. That same urn became the Undertaker and Paul Bearer's calling card, and a symbolic representation of their friendship.
ADVERTISEMENT
Article continues below this ad
One would not be without the other
ADVERTISEMENT
Article continues below this ad
"I don't know if the Undertaker takes off at the speed that it does, without a Paul Bearer." These were the Undertaker's words that rang true in the minds of fans. If not for Paul Bearer and the urn, the Undertaker would not have been half as mystifying and popular as he is now.
Paul Bearer passed away on March 5th, 2013. In 2014, he was inducted into the WWE Hall of Fame. He will go down in history as one of, if not the greatest manager in WWE history.