Paul Heyman Makes a Bizarre Request to WWE for Next Year's Hall of Fame Ceremony
Published 05/10/2021, 8:45 AM EDT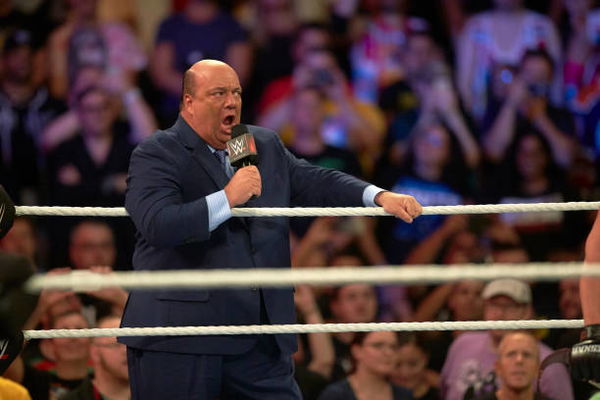 ---
---
It's been more than a decade since ECW collapsed. The little rebellious and groundbreaking promotion from Philadelphia pushed the boundaries of wrestling until the boundaries pushed back. However, Paul Heyman still believes in the relevance of Extreme Championship Wrestling.
ADVERTISEMENT
Article continues below this ad
Paul Heyman makes a bizarre request
ADVERTISEMENT
Article continues below this ad
Before coming to WWE and managing exceptional talents like Brock Lesnar and Roman Reigns, Paul Heyman had a different role. Not only did he have a unique role, but a unique name to go with it.
Paul E. Dangerously was the founder and brains behind Extreme Championship Wrestling.
Heyman revolutionized the industry by introducing hardcore wrestling to a ready fanbase. The mainstream fans did not take to ECW's product immediately, but the promotion received a cult following, especially in Philadelphia. A major reason for ECW's bizarre but amazing product was the fan involvement.
ECW crowds weren't like regular wrestling crowds, popping for heels and booing John Cena. When Cena stepped into an ECW ring in 2006, the crowd did not boo him but chanted 'F*ck you Cena'. When Cena tossed his shirt into the audience like he always does, the crowd tossed the shirt back at him.
Because of their notoriety and the incredible atmosphere they create, Paul Heyman wants WWE to induct the ECW audience into the Hall of Fame. Many Superstars dealt with this hostile reaction, but there were fan favourites too.
Guys like Sabu, Tazz, Rob Van Dam, the Dudley Boyz and Tommy Dreamer were incredibly popular in ECW.
Wrestling legends who started off in ECW
Many current Hall of Famers began their career wrestling in ECW. While other promotions rejected them, Paul Heyman took them in and made them legitimate Superstars.
The first real Superstar created in ECW, who also became a global phenomenon, was ob Van Dam. RVD is the only wrestler to have held the ECW and WWE Championship at the same time.
ADVERTISEMENT
Article continues below this ad
The Dudley Boyz were popular in WWE but were a force to be reckoned with in ECW. They became known as the table breaking and spine crunching beasts in Paul Heyman's world. Another former ECW talent who became immensely popular in WWE and TNA is Tommy Dreamer.
Tazz manages some of AEW's finest talents, but he was a fine talent himself in ECW. The Human Suplex Machine tossed people and dropped them on their heads for a living.
ADVERTISEMENT
Article continues below this ad
Another current AEW talent who held the ECW Championship is Jerry Lynn. We often saw Jerry alongside Tony Khan at IMPACT Wrestling, acting as his advisor. He's also a trainer for young AEW talent.