Pete Dunne Emulates Conor McGregor With Shoulder Strikes Against NXT Champion Finn Balor
Published 02/15/2021, 6:30 AM EST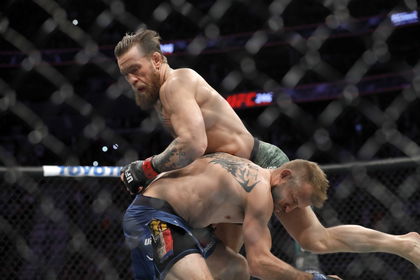 ---
---
Tiny details in a wrestling match often go unnoticed, but add a special layer to the bout. At NXT Takeover: Vengeance Day, Finn Balor and Pete Dunne's hard-hitting classic had many layers. One layer that the commentary team was quick to point out was a couple of shoulder strikes to the jaw, the move made famous by Conor McGregor.
ADVERTISEMENT
Article continues below this ad
Pete Dunne and Finn Balor's match takes a Conor McGregor inspired turn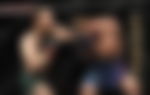 At the six-minute mark, Pete Dunne cornered Finn Balor on the ropes with the champion's jaw in a vulnerable position. The challenger took advantage of the situation and smashed Balor's jaw with a couple of nasty shoulder strikes.
ADVERTISEMENT
Article continues below this ad
Big UFC fan Pete Dunne driving shoulders into Finn Balor's previously broken jaw the same way Conor McGregor rocked Donald Cerrone a year ago.

The little things. #NXTTakeOver

— Alex McCarthy (@AlexM_talkSPORT) February 15, 2021
Balor's jaw became significantly weakened after Dunne's devastating attack. Needless to say, it was incredibly clever of the Brit to use the move made popular by Balor's compatriot.
In fact, that move must've rattled Balor in more than one way.
Conor McGregor used the shoulder strikes to rattle 'Cowboy' Donald Cerrone at UFC 246. A seemingly ineffective move got the Irishman a historic win in only forty seconds. The Cowboy's visage was left a broken, bloody mess, courtesy of McGregor's shoulder.
Conor McGregor had more than one effect on this match
Another important comparison made to Conor McGregor's fight was Balor's targeting of Pete Dunne's knee. During his fight against Dustin Poirier at UFC 257, the Irishman had his legs chopped from underneath him by his opponent.
This left his base weakened, allowing Poirier to absorb as much damage as possible before knocking the Irishman on his backside.
Balor used this to his advantage at NXT Takeover. As Dunne worked over his arm and jaw, Balor chipped away at Dunne's knee, rendering him handicapped for most of the match.
With Dunne unable to stand straight, Balor finished him off with a dropkick to the face, followed by the Coup de grace/1916 combination.
What's next for the NXT Champion?
ADVERTISEMENT
Article continues below this ad
After the absorbing war with Pete Dunne, Balor suffered a super-kick from Adam Cole. The Panama City Playboy then super-kicked Kyle O'Reilly as well, turning heel.
Balor now has two potential opponents for WrestleMania weekend, three if Edge is genuinely considering the NXT Championship. These are exciting and daunting times for the NXT Champion, but will Finn Balor be able to endure it?
ADVERTISEMENT
Article continues below this ad