WATCH: CM Punk's First ever Title Win in WWE
Published 08/16/2020, 3:54 PM EDT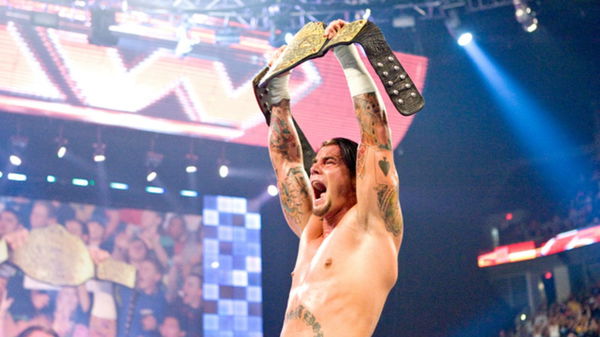 ---
---
WWE has seen some of the toughest and most legendary Championship matches throughout its history. These matches get really heated and Superstars go to extreme lengths to get their gold. There are some that do it the hard way, and then there are the others who cash in their briefcases, just like CM Punk in 2008.
ADVERTISEMENT
Article continues below this ad
Batista was in the process of beating the life out of Edge on the June 30th episode of Raw after Night Of Champions that year. He was disgusted by  Vickie and Chavo Guerrero continuously interfering on Edge's behalf.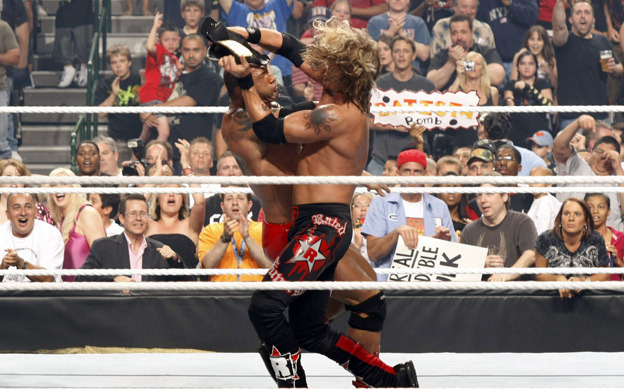 ADVERTISEMENT
Article continues below this ad
Edge begged for mercy but "The Animal" didn't have that word in his dictionary. He picked up a struggling Edge and delivered a huge Batista Bomb to "The Rated-R Superstar". 
Edge had it coming for a long time and deserved every punch he got. As Batista began walking to the backstage area, CM Punk's music began playing! 
Punk was then seen entering, holding his Money in the Bank briefcase and walking at a fast pace towards the ring along with a referee. The fans began cheering because they knew what was about to transpire.
Batista looked on in shock as Punk made his way into the ring. The referee quickly managed to start the match, and Punk was ready. The crowd watched silently in anticipation.
There was a huge pop when the announcer made it clear that it was going to be a match for the World Heavyweight Championship.
Edge lost to CM Punk without putting up a fight
Still dizzy from the Batista Bomb, Edge looked like he could use some milk. He staggered back to his feet and probably didn't even know where he was.
He practically walked into a prepared Punk who lifted him up and delivered a big Go To Sleep. Edge didn't even put up a fight!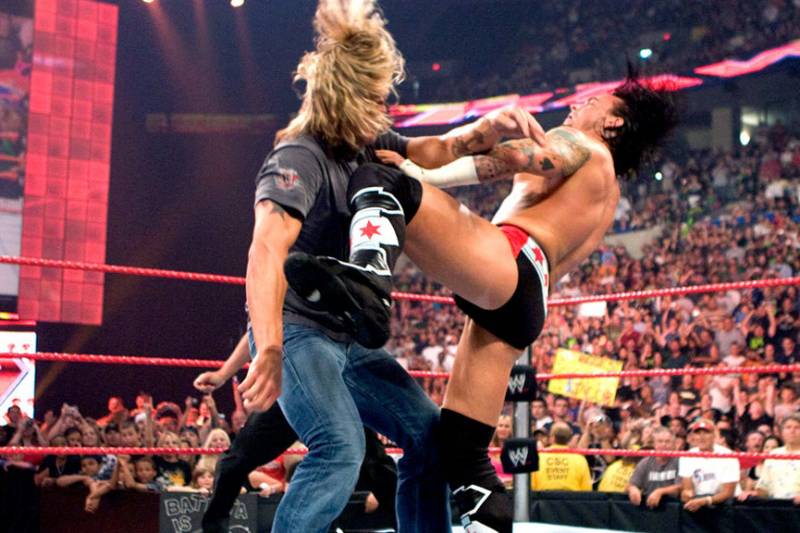 ADVERTISEMENT
Article continues below this ad
Punk then pinned "The Rated-R Superstar", much to the satisfaction of the crowd. Edge was done, and karma came back to hit him in the face.
This match was a historic moment as it marked CM Punk's first title win in WWE. He would go on to win a lot more in his career at the company.
CM Punk is one of the longest-reigning WWE Champions, holding the belt for an impressive 434 days! Although this is nowhere close to Bruno Sanmartino, it is one of the longest reigns post-2000.
ADVERTISEMENT
Article continues below this ad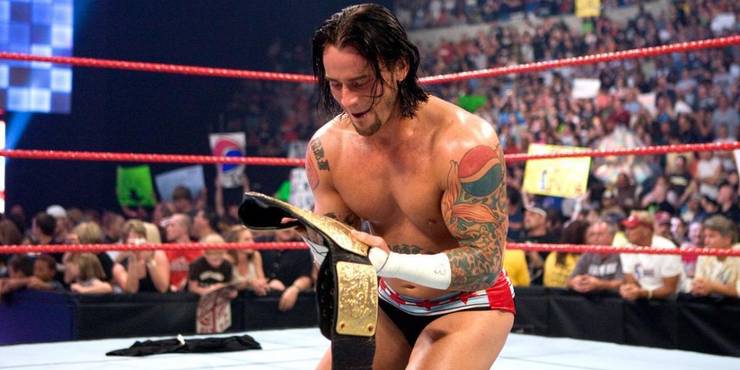 "The Best in the World" would go on from that night in 2008 to become one of the most popular and widely respected Superstars in WWE. Nearly 7 years after his departure from the company, he still is.