Randy Orton Disowns Tag Team With Riddle Upon Return to WWE Raw
Published 08/09/2021, 9:10 PM EDT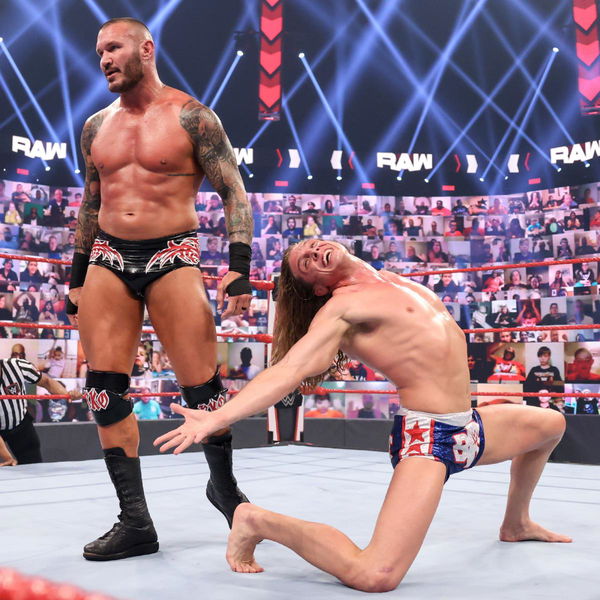 ---
---
Oh, it is so good to see Randy Orton back on WWE TV. The Viper soaked it all in when he opened WWE RAW live from Amway Center in Orlando, Florida. Randy was welcomed by the crowd with a humongous pop as the WWE fans certainly missed the Apex Predator on a stagnant RAW. after entering the ring, Orton had goosebumps from the reaction of the crowd as this was the first time post Thunderdome era that Randy has appeared on a live RAW show.
ADVERTISEMENT
Article continues below this ad
Randy Orton gets interrupted by Matt Riddle
ADVERTISEMENT
Article continues below this ad
The WWE legend wasted no time as he welcomed Florida to Monday Night RAW. Matt Riddle then interrupted Randy, and fans were excited to see RK-Bro reunite at RAW. Riddle was thrilled to see Randy and stated that he missed him so much over the past few weeks. The duo had a hilarious conversation when Riddle revealed he was afraid that Randy would never come back, just like his stepdad, who went to buy milk and never came back. The fans in the arena loved these moments as they were laughing, seeing Randy Orton's reaction.
Watch this Story- Six WWE Superstars Who Defeated The "Iconic" Goldberg!
Riddle then asked Randy to rekindle their RK-Bro tag team as the Apex Predator was back and ready to fight. Orton turned down Riddle's request, stating that the duo may have had a few excellent matches. However, both superstars have done well without each other. Riddle, who was heartbroken with Randy's response, asked whether this was the end of their tag team, and then AJ Styles interrupted RK-Bro.
AJ Styles challenges Orton for a one-on-one match for RAW
ADVERTISEMENT
Article continues below this ad
AJ Styles and Omos entered the ring, and Styles started mocking the duo for being 'too sweet'. Styles then asks Riddle why he thinks The Apex Predator, who has a grim history of using his friends for his benefits, would even team with him. Randy, by this time, had heard enough of AJ and asked him to shut his mouth. Orton then says the only thing bigger than AJ's ego is that jacka** right there, Omos. AJ, who was despondent with Randy's remarks, challenged him to a one-on-one match live on RAW, to which Randy said yes.
ADVERTISEMENT
Article continues below this ad
Orton then added that he would give a teaser of what will happen later on the show as he went to pull off an RKO on AJ Styles, but Styles escaped. Next, Orton turned his attention to Omos and tried to pull off an RKO on the giant, but was unsuccessful. Orton, who glided out of the ring, tried to distract Omos so that Matt Riddle can attack him, but Riddle instead tried to pull off an RKO, which Omos countered, and the giant planted a choke slam on Riddle.