Randy Orton Lights The Fiend on Fire to Win The Inferno Match at WWE TLC 2020
Published 12/20/2020, 10:47 PM EST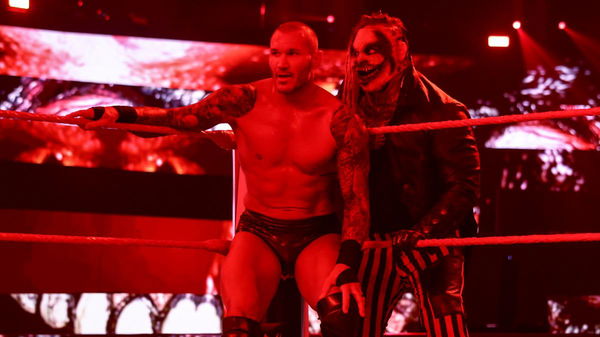 ---
---
WWE TLC 2020 witnessed the first-ever Firefly Inferno match when Randy Orton faced The Fiend. Although it was not a cinematic one, the ending was nonetheless, dramatic.
ADVERTISEMENT
Article continues below this ad
The match was unlike any traditional match in wrestling. The only way to win it was to set any part of the opponent on fire. The match started normally as both superstars made their way into the ring.
However, as The Fiend overpowered Orton, flames started shooting up at ringside. Fiend tried to put Orton in the flames, but he fought him off. Fiend dropped Orton at ringside and the flames shot up once again.
ADVERTISEMENT
Article continues below this ad
Orton moved away from the Fiend's burning whip and tried to burn him with flames that were beside the commentary table. Fiend grabbed a pickaxe from under the ring and a rocking chair. Randy Orton, who was battered back and forth, was put into the chair. He proceeded to douse him with gasoline.
As Fiend lit the gasoline trail, Orton moved at the last moment and did not get burnt, He gained a little advantage as he wrapped a chain around his fists and choked Fiend out into the flames.
Randy Orton burnt The Fiend alive?
Fiend escaped from the Viper's grasps and tried to push Orton back into the flames. However, Orton turned things around and Fiend's jacket and his pants caught fire; The Fiend ran back into the ring while he was on fire.
Orton hit the RKO, and the Fiend lay flat on the ground as the flames on his body went out. Orton was visibly disturbed, but he went outside the ring to grab a can of gasoline.
Orton lit the body of the Fiend on fire as the flames all around the ringside area started shooting up in the air, over and over. The Fiend's body burnt in the middle of the ring.
ADVERTISEMENT
Article continues below this ad
Orton, now outside the ring, did his signature pose whilst the flames raged; an image eerily similar to the one when he burnt down the Wyatt House a few years ago.
ADVERTISEMENT
Article continues below this ad
Since Orton was the one to give rise to the Fiend, it is only normal that he put an end to him. But, did the Find actually die? Or is it just another way to give rise to another character of Bray Wyatt? Let us know your thoughts in the comments below.