Randy Orton Reveals Why Ricochet has Not Become A Top WWE Superstar Yet
Published 03/20/2021, 12:54 PM EDT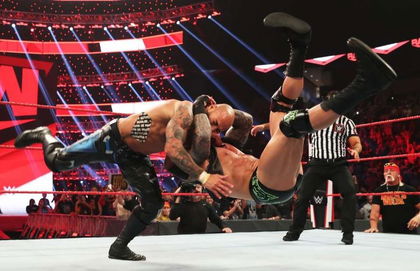 ---
---
Randy Orton will appear on Stone Cold Steve Austin's Broken Skull Sessions. The Viper had been pining for the opportunity to appear on the podcast, and his moment is finally here. Before their epic face-off, WWE offered a tiny sneak peek into the upcoming episode that will air after the Fastlane PPV.
ADVERTISEMENT
Article continues below this ad
Randy Orton praises Ricochet on Broken Skull Sessions
ADVERTISEMENT
Article continues below this ad
On the podcast, Orton took part in a game called word association. Steve Austin took the name of a WWE Superstar, and Orton had to say a word or phrase that came to his mind instantly.
Austin kicked off the game with a few easy ones, like Charlotte Flair, Tomasso Ciampa, and Nia Jax. Orton called Flair an 'amazing talent', given that he worked with her father, Ric Flair. The Viper has had his issues with Tomasso Ciampa on Twitter and called him 'short' when his name came up. For Jax, Orton simply said, 'Not short.'
The next set of names led to some interesting answers from Randy Orton. With Ricochet, Orton claimed, "Amazing talent, but missing something and I'd love to help him."
Orton and Ricochet crossed paths a few times in WWE, most recently in 2019, when they faced off in the Team Hogan vs Team Flair match at Crown Jewel.
Whether it's charisma, the ability to talk on the mic, or wrestling caliber, Orton can be a fantastic coach for the high-flyer.
Orton rounded off the game by calling Pete Dunne 'leaned up', Keith Lee an 'amazing talent', Otis a 'hell of a worm', Big E a 'stand up dude' and claims Riddle is growing on him.
The Viper faces Alexa Bliss at WWE Fastlane
ADVERTISEMENT
Article continues below this ad
After being tormented by Alexa Bliss for about three months, Randy Orton finally gets the chance to get rid of her. He faces the Fiend's FireFly Funhouse playmate at Fastlane in WWE's first inter-gender match since 2016.
Alexa Bliss has burned the Viper's face, made him cough up black blood, cost him matches against Triple H, AJ Styles, Edge, and Drew McIntyre on Raw. Orton is hellbent on ridding himself of Bliss' voodoo, but will he be able to do so at Fastlane?
The match also acts as a potential plot device to further the rivalry between the Fiend and Randy Orton. Bray Wyatt has been absent since Orton set him on fire at TLC 2020, and Fastlane might be the perfect place for him to reemerge and set his eyes on the Viper again.
ADVERTISEMENT
Article continues below this ad