BREAKING: Retribution Members Finally Unmask Themselves on Raw
Published 09/21/2020, 8:42 PM EDT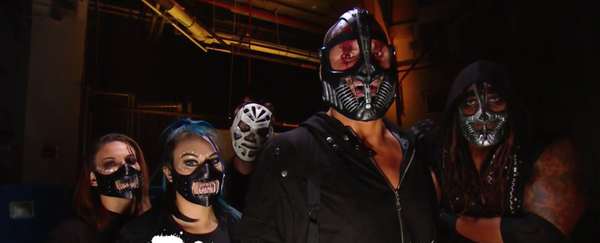 ---
---
The ball has finally dropped. On the latest episode of Monday Night Raw, the infamous masked faction Retribution actually unmasked themselves, and it's pretty evident who the members are.
ADVERTISEMENT
Article continues below this ad
Although we didn't get a proper face reveals, enough was revealed to know what was under the Bane-like masks, and the Superstars' attire was seen. 
ADVERTISEMENT
Article continues below this ad
It is official now that the core team of Retribution consists of Shane Thorne, Mia Yim, Mercedes Martinez, Dio Maddin, and Dominik Dijakovic. All the Superstars listed above were heavily linked to the faction, and the rumors seem to be true.
Retribution made yet another appearance on Raw, and this time it was to teach MVP a lesson. The Hurt Business had taken the security of Raw on its shoulders and managed to stop Retribution last week with the help of Drew McIntyre and Keith Lee.
However, this time Retribution wanted to show them who truly is the boss of Raw. This time they caught the Hurt Business right in the center of the ring where they wanted them. 
Needless to say, the lions were taken down by the wolves easily. Just when we thought it was another boring casual raid, 5 members distinctly stepped up and lifted off their face covers.
No one expected Retribution to unmask
The unmasking has been receiving a mixed reception from fans. A lot of people expected a thrilling unmasking where a major Superstar would be seen returning. Everyone had CM Punk on the back of their minds.
However, it turns out that the Superstars were exactly the same as the rumors, which makes the unmasking redundant. I fail to see how this will help the ratings of Raw for even the short run.
There may still be hope for the masked rebels. Right now, the WWE Universe is buzzing with theories as to what Retribution is going to do next.
ADVERTISEMENT
Article continues below this ad
Now that their faces have been revealed, the storyline has a lot more depth. The possibilities here are endless and we may see some good old faction revival.
ADVERTISEMENT
Article continues below this ad
Although I don't have any hopes that Retribution can reach the stage of Nexys, they may give us some good moments. We have to closely keep an eye on them, and watching them every step of the way.