"A Heat-Seeking Missile"- WWE Legend Scott Hall Describes a Young Shawn Michaels and Life With the Kliq
Published 06/19/2021, 11:10 AM EDT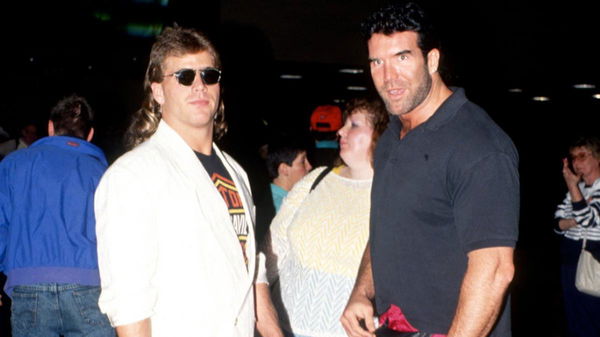 ---
---
Wrestling fans that have been around for long certainly do remember Shawn Michaels in the early 90s. As a man pushed to the limits as the star, HBK indulged in habits that would throw him off his course several times. The pinnacle of his first stint in WWE was The Kliq- a backstage group started by him involving Sean Waltman, Triple H, Scott Hall, and Kevin Nash. 
ADVERTISEMENT
Article continues below this ad
The Kliq was a notorious group that had a tremendous pull when it came to backstage dealings. The group was also known for its shenanigans outside the ring. Scott Hall, also known to fans as Razor Ramon, detailed how it was hanging out with a young Shawn Michaels, full of life and baggage of being a top star.
ADVERTISEMENT
Article continues below this ad
"A lot of my career in WWE I traveled with Shawn Michaels, who at that time was a heat-seeking missile," Hall said, speaking on the 83 Weeks Podcast. "I stayed with him and then Kid [Sean Waltman] came along and so when we would travel I had to keep an eye on those guys because they were the heat-seeking missiles and I was gonna be the enforcer if need be."
Scott Hall claimed everything changed when Kevin Nash joined
However, Scott Hall admits he too jumped on the bandwagon and had his share of fun in the road once Kevin Nash entered the group. 'Big Daddy Cool' took over his role as the enforcer and looked out for them if they got out of hand. 
"Once big Kev came along it's like 'Woohoo!' Give me a handful of pills and I'm off to the races. He's watching everybody's back," Hall joked. 
The infamous faction split up in 1996 when Scott Hall and Kevin Nash decided to leave for WCW. The two had their last match at the main event in Madison Square Garden. However, as one last and final symbol of their notoriety, Shawn Michaels held the two back as a farewell ceremony in front of the crowd. 
Watch this story: Most Controversial Moments in WWE Hell in a Cell History!
ADVERTISEMENT
Article continues below this ad
This massive break in character cost Vince McMahon dearly as it broke the storytelling wall of his product. The incident, call the 'Curtain Call' or the 'Madison Square Garden Incident', was the first time Vince McMahon was forced to acknowledge that his product was the work of pre-planning.
Triple H, also a member of The Kliq then, was forced to bear the brunt and suffered a series of losses over the next few months. Hall also claimed Michaels threw Triple H under the bus on that occasion. One can only imagine how wild things must have been, heading on a road trip with The Kliq.
ADVERTISEMENT
Article continues below this ad