AJ Styles Reveals the Real Reason He Snubbed WWE 20 Years Ago
Published 01/16/2021, 11:07 AM EST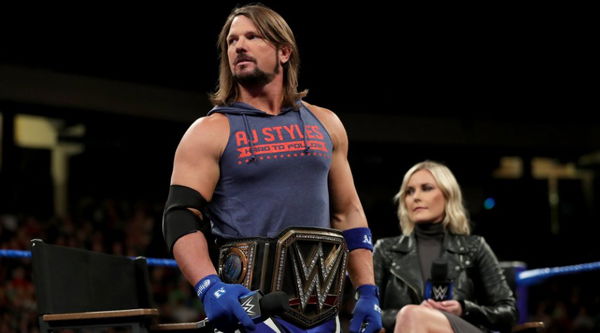 ---
---
AJ Styles made a huge WWE debut at Royal Rumble 2016, which achieved one of the biggest crowd pops in history. Fans were so happy to see Styles in the WWE Universe for the first time.
ADVERTISEMENT
Article continues below this ad
The only thing was, it wasn't his first time in WWE. 'The Phenomenal One' had one foot inside a WWE career when he was much younger, but few know this story. 
ADVERTISEMENT
Article continues below this ad
Following the fall of WCW, Styles had a tryout in WWE and was offered a chance to join the company. Unfortunately, he would have to relocate to a development territory in Ohio to continue his journey with the company. 
The deal just needed Styles' signature, but he declined. AJ Styles considered the needs of his wife before his own. In the latest edition of WWE Untold, 'The Phenomenal One' revealed the thought process behind this key decision.
"I wanted to make sure that she was able to go after her dream. That was very important to me," said Styles. "Mine could come second, so I didn't take the developmental with WWE in Cincinnati. Years later, it ended up leading me back to WWE at the perfect time."
AJ Styles had a prosperous career with TNA
AJ Styles signed a deal with TNA instead which took him to the stars. He grew to be one of the biggest stars in wrestling that wasn't from WWE and was admired by many critics. 
"My wife is brilliant, though I like to say she made a mistake in marrying me. She worked so hard to get to college and earn a scholarship, and her dream was becoming a teacher," explained Styles. (H/T Sports Illustrated)
ADVERTISEMENT
Article continues below this ad
Needless to say, over 15 years later, the road led him back to his destiny at the highest stage in WWE. AJ Styles made an explosive debut at Royal Rumble 2016 and began displaying the best of his abilities since then. 
Apart from multiple Championship reigns, Styles has delivered matches of the highest quality. He has fought the best in the business like John Cena, Brock Lesnar, and The Undertaker himself. 
ADVERTISEMENT
Article continues below this ad
'The Phenomenal One' is still a key part of WWE and manages to entertain inside as well as outside the ring. Receiving praise from legends like the Undertaker and "Stone Cold" Steve Austin, it's safe to say that AJ Styles is one of WWE's biggest assets today.