Alexa Bliss and Shayna Baszler's Horror Segment on WWE Raw Receives Harsh Criticism From Fans
Published 06/08/2021, 12:01 AM EDT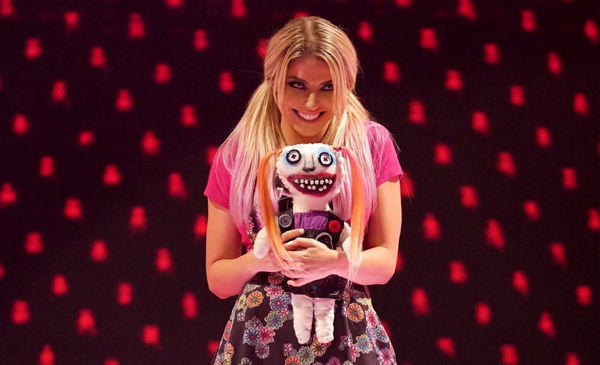 ---
---
While The Fiend hasn't been seen in WWE for quite some time, Alexa Bliss is maintaing the horror quotient as she haunts Raw alongside the creepy doll known as Lilly. 'The Goddess' has been tormenting all those who crossed her and has now taken an interest in Nia Jax and Shayna Baszler. 
ADVERTISEMENT
Article continues below this ad
However, Shayna Baszler seems overly confident in the fact that Alexa is just hallucinating everything and that Lilly the doll's supernatural power is just a superstition. So much so, that she went ahead and daringly crushed the dog beneath her feet on Raw. 
The worst. This Alexa Bliss thing is so dumb

— FiñañcialFlexibility (@absolutenick) June 8, 2021
ADVERTISEMENT
Article continues below this ad
To her horror, the entire arena turned against her with lights flickering and the pyro misfiring. Taken aback, Baszler rushed backstage while Alexa Bliss laughed. The insanity did not stop there as Shayna was greeted by an empty locker room. 
That angle with Alexa Bliss went from sugar to shit real fast

— Bg_kyle (@Bgkyle1) June 8, 2021
There were no staff or Superstars backstage, and Shayna Baszler was all alone. 'The Queen of Black Hearts' struggled to make sense of the situation and tried to find a way out. 
Wow, these storylines at the @WWE are so lame, especially Alexa and Shayna. What a reach. 🤣🤣🤣🤣🤣 #TrashTV

— Joe Cabrera (@theREALjoecab) June 8, 2021
However, she found herself trapped by the entity she mocked and crushed beneath her feet. Shayna stared into a mirror and saw the apparition of the doll behind her as Raw ended on a cliffhanger. We could hear her scream when the lights went off, suggesting something gruesome had happened to her. 
The Alexa Bliss, Shayna, Lilly stuff is the stupidity I watch wrestling for. So good. 😂 #WWE #RAW

— Daley~ (@HashtagDALEY) June 8, 2021
WWE's handling of Alexa Bliss was not received well by fans
Fans immediately took to Twitter to express their opinions on the ending. Some absolutely despised the way WWE handled Alexa Bliss and called it one of the worst endings to the show. 
this thing between Alexa Bliss & Shayna Baszler is getting ridiculous. we want to watch wrestling not fucking conjuring.

— 🎭 (@PaanZaini) June 8, 2021
It's no secret that this horror angle with Alexa Bliss is increasingly unpopular with the WWE fanbase, and people want to see her return to her original character. WWE assumed it would end for her after the Fiend match against Randy Orton at WrestleMania, but that wasn't the case. 
What Dumb Fuckin Angle To End Raw.

Shayna Baszler Came Off Looking Nerd During That Segment. Also Alexa Bliss Easily Has Worst In Pro Wrestling #WWERaw

— Stevenwwefan98 fan (@stevenwwefan98) June 8, 2021
We can expect Shayna Baszler to take the same role as Randy Orton in his feud against The Fiend. Tormented by the supernatural powers she chose to meddle with, Shayna will likely have this storyline against her. 
I left Monday Night Raw. Turned back towards the end of #WWERaw AND ALEXA BLISS AND SHAYNA ARE ARGUEING AND TALKING ABOUT A GOSH DANG DOLL! SHAYNA BASZLER IS RUNNING FROM THE DANG DOLL! SERIOUSLY?! THIS THE MAIN EVENT?! pic.twitter.com/AqELDmJ0l1

— Cool Bunny 🐰 (@CandiceTinnon) June 8, 2021
However, a lot of fans seem to appreciate this angle and are excited to see what's next. As the main event of the show, it did not sit well with the majority, but everyone is surely eager to see what comes next in this questionable storyline.
ADVERTISEMENT
Article continues below this ad
I am down for a psychological thriller between Shayna/Alexa which includes a match #WWERaw

— stephanie wayman (@stephy9538) June 8, 2021
That is literally THE most intriguing segment from Raw in like the last few months. That shit was intense as hell, finally this Alexa Bliss storyline is starting to pick up, Shayna Baszler was the perfect person to use for this. Can't wait to see what happens next week #WWERaw

— Childishkage (@ChildishRaikage) June 8, 2021
ADVERTISEMENT
Article continues below this ad