EXPLAINED: Bizarre Ending to The Fiend vs Randy Orton at WrestleMania 37
Published 04/11/2021, 9:05 PM EDT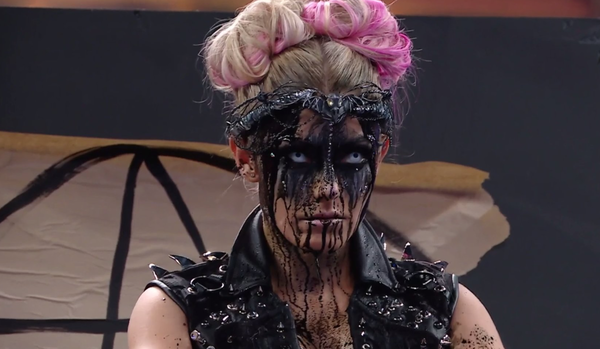 ---
---
Randy Orton came in handling every aspect of his fear, Alexa Bliss skipped in as usual, but The Fiend entered in a box and shredded through his original 'burned' attire to his original self with the traditional Fiend costume. 
ADVERTISEMENT
Article continues below this ad
However, the masked monstrosity was blindsided in one of the biggest shockers at Mania so far. Towards the end of the fight, black goo spewed everywhere, but this time, it didn't come out of Orton's mouth
ADVERTISEMENT
Article continues below this ad
As the camera zoomed in on Alexa Bliss, we could see she was the one who had black goo spurting out of her head and covering her face in what formed a horrific sight to behold. 
This inexplicable moment distracted The Fiend, who was then RKO'd by Orton and pinned. 'The Legend Killer' walked out alive and proved once more that nothing can stop him, not even a supernatural foe. 
However, the WWE Universe has blown up with questions as to what just happened. Judging by the look of everything, we could have a huge explanation that may predict the future course of events. 
Is 'The Demon King' coming for The Fiend?
When The Fiend first debuted in 2019, he targeted Finn Balor, who was then still a Raw Superstar. After delivering a Sister Abigail to the Irishman, Wyatt established his new character as permanent.
Although, we haven't seen Balor on the main roster ever since he lost at SummerSlam 2019 since he moved to NXT straight after. 
ADVERTISEMENT
Article continues below this ad
With the black goo dripping all over Alexa's face, it sort of resembled Balor's infamous gimmick- 'The Demon King'. By the fact that this version of Alexa Bliss did NOT help The Fiend, we can only assume that it is a rival seeking revenge. 
The big explanation is that 'The Demon King' wants out of the Firefly Funhouse, a place to which The Fiend supposedly banished Finn Balor following his debut. This big moment could be a tee up for a future feud between Balor and "The Fiend" Bray Wyatt.
ADVERTISEMENT
Article continues below this ad
Finn Balor has been conquering NXT so far and only just lost his NXT Championship to Karrion Kross. That being said, there is now nothing holding him back to the brand, which is why all signs point to his return as 'The Demon King' to Raw.
'The Cat' himself hinted out at a possible return to this character that he decided to leave behind years ago, and that's exactly what we may see on Raw soon.