SHOCKING! Zombies Invade Match Between The Miz and Damian Priest at WWE WrestleMania Backlash
Published 05/16/2021, 9:05 PM EDT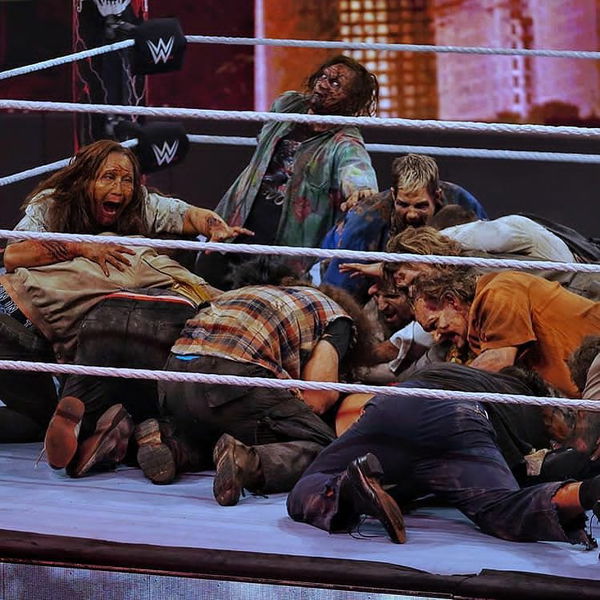 ---
---
If The Walking Dead doesn't provide enough of zombies and an army of walking corpses, WWE has stepped right in to give you a dose of the mayhem. At WrestleMania Backlash, the match between The Miz and Damian Priest was invaded- by Zombies! 
ADVERTISEMENT
Article continues below this ad
Let's get to the core of this story. Miz's partner John Morrison was backstage, looking for the so-called 'Lumberjacks.'
He finally caught them on the lockeroom door. However, upon opening the door, he found a room full of zombies staring at him. 
ADVERTISEMENT
Article continues below this ad
Confused, the former Intercontinental Champion left the door open and rushed for The Miz, which says a lot about his survival instincts in an apocalypse. Nonetheless, the Zombies soon started finding their way to the ring. 
Damian Priest and The Miz were surrounded by these flesh-craving monsters, and 'The Awesome One' couldn't believe what he was seeing. The Zombies couldn't enter the ring but tried their best to get a bite out of the competitors. 
Before long, John Morrison got caught in the horde and was apparently 'taken' by the zombies, much to Miz's helplessness. Damian Priest managed to gain the victory over his foe via pinfall and escaped just in time to watch him get 'devoured' by the horde. 
Why did WWE introduce Zombies at WrestleMania Backlash?
Apart from an array of fan criticism, the zombie addition added a tinge of a surprise element to this otherwise normal match. The setting changed upon their entry and the scene started to look like a separate arena, out of a video game. 
However, the use of the walking corpses isn't tied to a WWE storyline in any way and was just a promotion for an upcoming movie 'Army of the Dead', starring former WWE Champion Batista. 
The movie features him trying to survive the zombie apocalypse and forming a team to do so, and he did tease the coming of these creatures mere hours before the event. 
Wishing good luck to all the WWE Superstars competing tonight at #WMBacklash. Sorry I couldn't make it … but some of my friends will. #ArmyOfTheDead @WWE

— The Artist Formerly Known as Super Duper Dave (@DaveBautista) May 16, 2021
We also saw this movie promoted at UFC 262 very prominently, which just proves how big a project it really is. However, we are eager to see how WWE plays this off on the next episode of Raw. 
ADVERTISEMENT
Article continues below this ad
Will The Miz and John Morrison show up with bite marks or as Zombies themselves? We will soon find out on Monday Night Raw.
ADVERTISEMENT
Article continues below this ad