Batista's New Movie "Army of the Dead" Shatters Netflix's Record With Over 70 Million Views
Published 06/01/2021, 10:34 AM EDT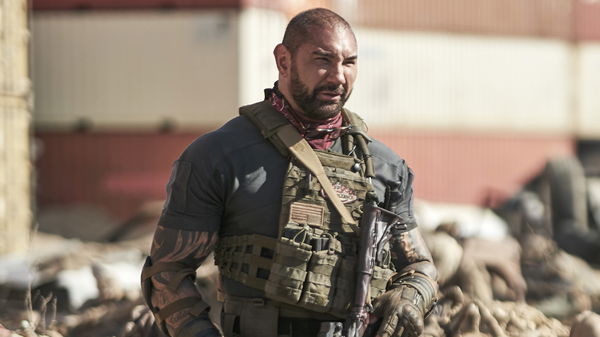 ---
---
Dave Bautista has really blown through the film world with his captivating acting performances and ability to master any role presented to him. His recent film 'Army Of the Dead' portrayed many parts of his character and abilities on screen, and he has moved far past his role as Batista in WWE. 
ADVERTISEMENT
Article continues below this ad
'The Animal' has been rewarded for his patience in the industry as Army of the Dead is set to make history as the most-viewed Netflix film of all time! Standing currently at 72 million views worldwide, the streaming platform has revealed that the movie is projected to rise a lot higher than expected. 
72 million households are betting on dead.

ARMY OF THE DEAD has been the #1 film around the world and is projected to be one of Netflix's most popular films ever in its first 4 weeks. pic.twitter.com/85foTPFAny

— NetflixFilm (@NetflixFilm) May 28, 2021
ADVERTISEMENT
Article continues below this ad
It currently sits at number 9 on the list, behind Project Power by 3 million views. The company expects it to climb to Bird Box at 89 million views and then Extraction at number 1 with 99 million views. 
The milestone means big things for Batista
This would be a huge achievement for Batista, given that he has just broken up as a solo star in Hollywood. Army of the Dead, directed by Zack Snyder, is a Zombie Heist movie that centers around a team of experts that attempts to extract a huge amount of cash from Zombie-infected Las Vegas. 
The premise of the movie itself was enough to get fans to tune in as soon as it dropped. Furthermore, Army of the Dead had one of the most 'out there' promotions fans have seen. 
Watch This Story: The Undertaker, The Fiend and More: Scariest Superstars in WWE History
'Army of the Dead' was promoted extremely well by WWE
'Army of the Dead' sponsored WWE for WrestleMania Backlash, and there was an entire infamous Zombie invasion segment. During the Match between The Miz and Damian Priest, 'Zombies' appeared as Lumberjacks, which was a promotion stunt for the movie. 
The zombies even ended up 'eating' The Miz and attacked John Morrison. Luckily, the two are not infected, and fans understood that the entire segment was a one-off. 
Additionally, the movie was actively promoted at UFC 262,which undoubtedly steered a lot of traffic its way.
ADVERTISEMENT
Article continues below this ad
The massive success of Army of the Dead may open up a variety of doors for Dave Bautista. The former WWE Champion will look towards bigger and better projects and could follow the footsteps of Dwayne "The Rock" Johnson. 
At 52 years of age, Batista is just getting started and can show fans an entirely different part of his skill set as time goes. 
ADVERTISEMENT
Article continues below this ad