WWE Universe Trashes the WWE Return of Goldberg on Raw Legends Night
Published 01/05/2021, 6:28 AM CST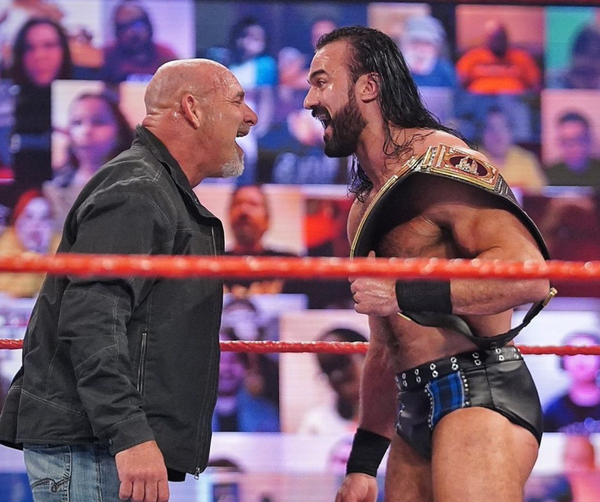 ---
---
There were a lot of talking points following the end of WWE's Raw's special Legends Night which saw the return of some of the company's best stars.  However, nothing tops the return of the former WWE Universal Champion Goldberg. 
ADVERTISEMENT
Article continues below this ad
Following a close match between WWE Champion Drew McIntyre and Keith Lee, all the legends watching were taken by surprise as they rose in adulation for the splendid entrance of Goldberg.
ADVERTISEMENT
Article continues below this ad
Every single person in the ThunderDome knew why he was there, and they were right. The WWE legend challenged Drew McIntyre for the WWE Championship in one of the most shocking storyline starters of them all. 
McIntyre laughed and joked that fighting Goldberg would be like fighting his father; at this point, the latter pushed McIntyre down! He showed him just how game he was for a fight. 
'The Scottish Psychopath' hasn't given an answer yet but will most likely agree to the match which is set to take place at Royal Rumble next month. 
Then have Drew win it back before Wrestlemania? If you are planning more than one Goldberg match with Drew, you have already failed!!!!!! I'd rather see Sheamus get the shot than Goldberg! Looks like one match I can avoid at the Rumble, WTG WWE, you guys know how to suck!

— Mark Kelley (@Graxxol) January 5, 2021
Although Goldberg's return was very high profile, a lot of fans were put off by WWE's creative decision to set Goldberg up with Drew McIntyre for the title. 
Fans do not seem hyped about Goldberg vs Drew McIntyre
Goldberg getting another shot at the title? I'm glad I haven't wasted my time on wwe in practically a year

— Gordon Shumway (@MarcCamp) January 5, 2021
Many expected the WCW star to continue his feud with Roman Reigns, but he decided to challenge McIntyre instead. Considering that McIntyre has been a workhorse champion, fans don't want to see Goldberg win the title at any cost. 
Goldberg is known for the quick finishes in his matches and many fans were shocked when he took out Brock Lesnar in mere seconds. However, he was universally panned for 'burying' "The Fiend" at Super Showdown last year. 
As you can see, fans don't agree with Goldberg being pushed into a feud with McIntyre who is arguably in his prime. Setting him up against Goldberg would be a waste of his talents.
I have never woken up pissed off due to wrestling. This whole Goldberg thing pisses me the fuck off

— Chris Beyers (@cbeyers1999) January 5, 2021
Goldberg has failed to deliver on expectations for a while now. His match against The Undertaker at Crown Jewel was disastrous and the match against "The Fiend" wasn't a spectacle either. 
Yeah it made 0 sense. If Goldberg beats drew I'm done. They tarnished the fiend by having Goldberg beat him. Drew does not need to lose at all.

— TinieTempest (@Mr_Brannagan) January 5, 2021
ADVERTISEMENT
Article continues below this ad
This may be his last chance to redeem himself and prove to the fans that he still has it in him, and that age is just a number. 
Hogan should have made himself useful & concocted a scheme to have Goldberg arrested for aggravated stalking or something like he did 22 years ago so we didn't have to see him show up to challenge McIntyre. Would've made a shit show a little better. #WWERaw #RAWLegendsNight

— Zoom-E (@Call_Me_ZoomE) January 5, 2021
ADVERTISEMENT
Article continues below this ad