WWE Universe Reacts to Roman Reigns' Dominant WrestleMania 37 Victory
Published 04/12/2021, 1:26 AM EDT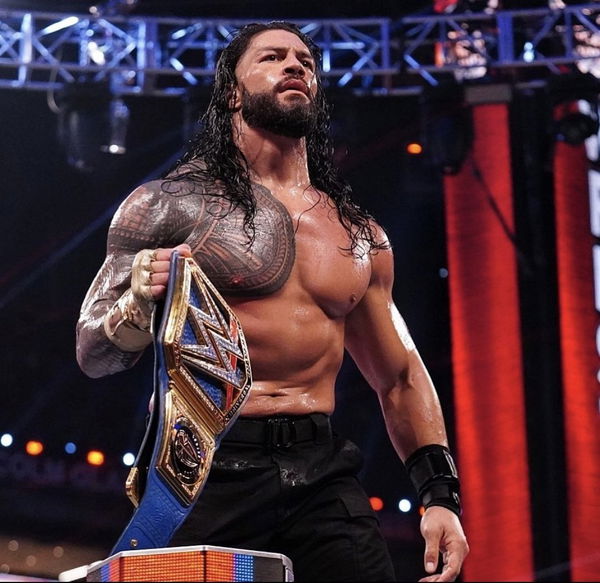 ---
---
The Raymond James Stadium was shaking with excitement for the main event of Night 2 of WrestleMania which was set to feature Roman Reigns defending his Universal Championship against Edge and a motivated Daniel Bryan. 
ADVERTISEMENT
Article continues below this ad
Fans expected Edge to complete his fantasy return journey with the ultimate prize at the Grandest Stage of them all, but WWE showed the world how all stories need not have a happy ending. 
ADVERTISEMENT
Article continues below this ad
Roman Reigns held on and successfully defended the belt after surviving the challenge of the Triple Threat match. Not only did 'The Tribal Chief' survive, but he also managed to dominate his opponents at the end of the fight. 
Reigns delivered a crushing spear to Edge, after which he hit the latter's head with a steel chair. He then dragged Edge's incapacitated body over Daniel Bryan's and pinned them both! This was one of the most dominant finishes to a WrestleMania main event and truly proved Roman's superiority over the rest of the roster.
You know Roman Reigns is one of the best heel in years when the crowd is still booing him aka doing his job.

— JaganKing 🈵 (@JaganKing12) April 12, 2021
Roman Reigns was booed by the live crowd during his entrance
Edge and Daniel Bryan, both former World Champions, came into this match with a lot of momentum. Daniel Bryan spent the last month proving that he belonged in this fight and even managed to make Roman Reigns tap out during their match at Fastlane, but the official did not see it. He finally earned his spot in the match by beating Jey Uso on SmackDown.
'The Rated-R Superstar' earned his way through by winning the Royal Rumble from the #1 spot, challenging Reigns after doing so. He came in as the favorite and even managed to get the biggest pop from fans in the event as a whole.
after rewatching the main event i think i need to accept roman reigns as the overlord of wwe

— ًconner (@godownaslovers) April 12, 2021
Roman Reigns, in his huge heel role, was booed by the live crowd upon entering. His role as the 'bad guy' certainly did take off and fans wanted Edge to win anyhow. 
I thought people were loving heel roman reigns? Guess I was wrong. That match were cool af. Reigns feels himself dominant, though he only won because of Jey. Pinning two favorites at once after a crazy match. That ruled imo. #WrestleMania

— Yū-metal (@ForsakenYurei) April 12, 2021
By the way he performed, everyone expected 'The Ultimate Opportunist' to pull off the win, but in the end, Roman showed everyone why he is the Champion. 
Roman Reigns is arguably one of the best Universal Champions. Just because he won does not mean you say he should die or wish for his leukemia to kill him. Don't wish death on him just because he retained his title.

— Nandez (-_•) (@MJNdon) April 12, 2021
ADVERTISEMENT
Article continues below this ad
Traditionally, one out of the three competitors is pinned for the win. By pinning both, Reigns made a huge statement and cemented his legacy as 'The Tribal Chief', undisputed and unparalleled in combat.
@WWE Just GOTTA shove Roman Reigns down our throats, eh? Couldn't give Edge what he was due after ten years TO. THE. DAY. , eh? Couldn't let Daniel Bryan go out in style, eh?

This is some bullshit…#WrestleMania37

— Tim Gainer (@axeslinginfrog) April 12, 2021
ADVERTISEMENT
Article continues below this ad