Every Tattoo on Roman Reigns and the Stories Behind Them
Published 10/27/2020, 1:42 PM EDT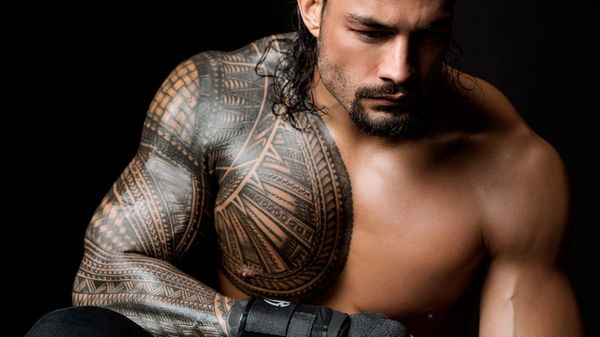 Roman Reigns has been the standout performer for WWE for the last four years. His consistent performances have been making WWE headlines for a while now, and he has taken on and beaten the best in the business, including legends like The Undertaker at WrestleMania.
ADVERTISEMENT
Article continues below this ad
A man with such a high profile like Reigns has to look intimidating. The war of the mind is won before the muscle. There is really no discounting how important a cool entrance is in a fight.
ADVERTISEMENT
Article continues below this ad
Despite his already humongous physique, "The Big Dog" has an extremely intricate collection of tattoos on his arm and chest that pretty much make him the complete deal.
Here are the tattoos on Reigns' body and their meanings:
1. Arms, Chest, and Back
Roman Reigns got his first tattoo as a teenager on his right shoulder. The best way to describe the ink is 'Samoan Tribal Art'. Roman proudly states, "Some people hang art, I wear it." 
He has stood true to his words. "The Big Dog" has had the one tattoo extend throughout his right arm from the shoulder and to the end of the right side of his chest. 
Rather than making new tattoos, Reigns has added on to the original shoulder tattoo. Through his development as a WWE Superstar, his tattoo has also increased in size and intricacy. 
Reigns gets his ink done by artist Mike Fatutoa. The entire run of ink on his right arm took a total of 17 hours to complete and is a reflection on his progress not only as a wrestler but also a member of the legendary Anoa'i family and a representative of the Samoan culture.
As you can see in the video above, Reigns wears the tattoos as symbolism to his roots. He is proud of his heritage and uses it as a mark on his body whenever he steps out in front of roaring crowds.
The immense detail of the art on his hands each has different meanings. The fact that they grew out over the years shows his own development as a person and a wrestler.
The tattoos represent justice, strength, authority, and a true reflection of a competitor.
2.Wrist
The WWE Universe may not have noticed it, but Roman Reigns also has a tattoo on his wrist. This tattoo which is hidden amongst the other artwork is of a small turtle.
This seems a bit out of sync with the rest of the themes of the arm and chest tattoos, but it too has a deep meaning. Reigns himself revealed that the title represented his bond with his daughter.
"This tattoo is for my daughter Joelle. It represents my daughter, she is with me, but no one needs to know. I got this tattoo inked on my wrist so that everyone can see it."
3. From "The Big Dog" himself
In an interview, Roman Reigns delved into the meaning behind his tattoos and why he got them. 
"You know when I was young, as you know you do a lot of things before thinking about properly. So, I have done the tattoo game that has the shoulder piece till hands and it proved to be lucky, you know with it my WWE career progressed," revealed Roman. 
"In Samoan culture, tattoos have a great significance. Starting with PE'A which is an important rite of passage for the men of Samoa. PE'A is applied during an extremely lengthy process with tools handmade from bone, tusk, turtle shell, and wood, representing the high chief or leader in the family." 
"For our generation, the focus is more on sleeves and chest. Earlier the focus was on stomach, knees, and legs, basically the lower portion of the body," explained Reigns. "This tattoo of mine is related to my family, the unity among all of us." 
Roman Reigns holds his bloodline through his tattoos
"I really trust Mike [ Fatutoa ] for this. He knows what pattern should get connected to others. It's a pattern which has a lot of significance in my Samoan culture. I am very proud to wear this tattoo. It has brought good luck to my life. It is part of my character," said 'The Tribal Chief'. 
ADVERTISEMENT
Article continues below this ad
"For me, it's just about representing my people, my family, and highlighting my culture. Whenever my family sees it, especially my father, he feels so proud and happy. I don't have space on the front side but on my back, I have got a lot of space. So this process will stay continued."
Roman Reigns shares his tattoo love with his cousins Jimmy and Jey Uso, who also have the Samoan ethnic symbolism in their ink. Before them, WWE legend Umaga sported some neat tattoos as well.
ADVERTISEMENT
Article continues below this ad
Dwayne "The Rock" Johnson, who is an honorary member of the Anoa'i family, has a similar area of ink to Reigns. The two are related and both love showing the world where they come from.
Roman Reigns has a long way to go yet, and we could see his tattoos in all their glory when he changed his ring attire in late 2020. Who knows? Maybe he will get a few more added over the years as he conquers more.