Everything You Need to Know About Daniel Bryan's Yes Movement in WWE
Published 03/27/2021, 10:00 PM EDT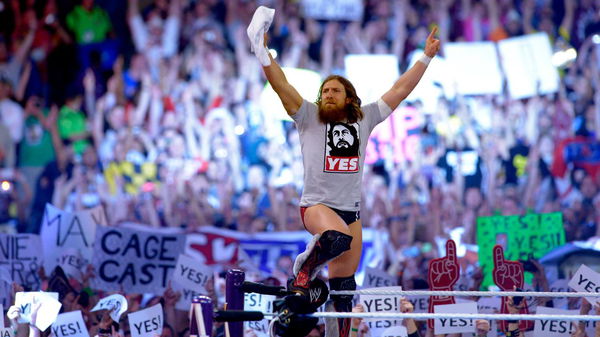 ---
---
Daniel Bryan is one of the most popular WWE Superstars of all time. His famous Yes! Chants have taken him places, and fans have backed him and pushed him up to the pedestal he is on now. As a fan favorite, Bryan has managed to do a lot more than winning matches. 
ADVERTISEMENT
Article continues below this ad
Before WrestleMania XXX season, Bryan had become increasingly popular for his antics and gimmick. Fans had grown to love the man with overgrown facial hair and unruly style. After chanting 'Yes!', to 'No!', and then back to 'Yes!', everyone loved Daniel Bryan and demanded his title match at the grandest stage. 
ADVERTISEMENT
Article continues below this ad
Fans blocked out any other sound by their defining Yes! Chants, and WWE decided to grant their wishes by giving him the golden key. However, the door was Triple H himself, hot on his role as the head of The Authority. 
Daniel Bryan was forced to fight Triple H, Randy Orton, and Batista on the same night
'The Game' stipulated that if Daniel Bryan managed to beat him at WrestleMania, he would have his spot as the third party in the Triple Threat Match involving Batista and Randy Orton, taking place later on that night.
This was an impossible scenario since getting past Triple H is one thing and facing Randy Orton and Batista on the same night completely another. No wrestler would go in expecting to win. 
However, Daniel Bryan managed to do it and came out as an absolute winner. He heroically defeated Triple H and then went on, battle-weary, to face Orton and Batista.
'The American Dragon' overcame all odds and blasted through Orton, pinning him to win both the WWE and World Heavyweight Championships on the same night!
This handed him the throne as the best Superstar of the time and cemented his legacy as one of the greatest. Daniel Bryan has since gone on to do big things. 
ADVERTISEMENT
Article continues below this ad
He now heads into WrestleMania 37 with the hopes of winning yet another World Championship as he takes on Roman Reigns and Edge. The odds are against him yet again, but these are regular conditions for him. 
Will we see the repeat of the heroics of WrestleMania XXX? Only time will tell as Daniel Bryan heads into the fire. 
ADVERTISEMENT
Article continues below this ad