Everything You Need to Know About Sarray, WWE NXT's Next Big Talent
Published 04/21/2021, 1:27 PM EDT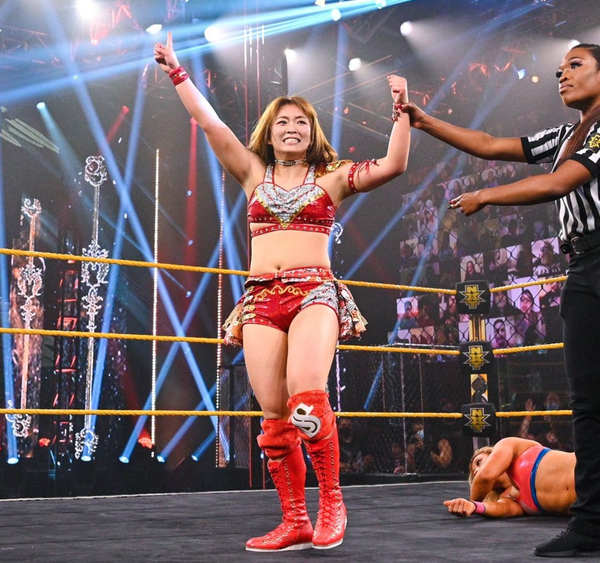 ---
---
Following the latest episode of NXT, it is clear that we have a new big talent on our hands. This episode, the second edition of the show since it moved to Tuesdays, featured the debut of Sarray, who picked up the huge victory over Zoey Stark. 
ADVERTISEMENT
Article continues below this ad
WWE seemed extremely excited over her arrival and it seems as if there's a big push coming for her in the company. Although, fans are still confused as to who this talent is and where she comes from. 
ADVERTISEMENT
Article continues below this ad
The truth is that Sarray is only 25, but that does not diminish her from other professional wrestlers in any way. This can be attributed to the fact that she made her pro wrestling debut at the age of 15! 
Coming from Itabashi-Ku in Tokyo, Japan, Sarray joined the wrestling order from a young age. She trained under Kyoko Inoue, who is a renowned figure in Japan and the first woman to win a men's title in the country, and also under Olympic Bronze Medallist Kyoko Hamaguchi.
She wrestled for 6 years in World Woman Pro-Wrestling Diana and made her debut at age 15 in a losing effort against Meiko Satomura, who coincidentally also wrestles in NXT under the UK brand. Sarray was originally known as Sareee, which was her ring name in Diana. 
She created this name by twisting her original one with that of Greeeen, a popular Japanese music band. She went on to make a huge name for herself at a young age and headed over to Seadlinnng in 2017 for 7 months before returning to Diana. 
Sarray has a profitable second stint in Diana
Her second stint in the promotion proved to be a breakthrough as she emerged as the top talent of Diana. During this time, she managed to become a 2-time World Woman Pro-Wrestling Diana Champion and at one point, also heard the Diana Championship along with the Sendai Girls World Championship during a promotional crossover. 
ADVERTISEMENT
Article continues below this ad
In February 2020, Sarray announced that she would be leaving Diana again, but this time for foreign shores as she was heading to WWE.
Due to the COVID-19 pandemic, she was forced to continue wrestling dates in Japan until WWE decided to bring her over to NXT and it seems she has finally got the golden ticket. 
Her victory over Zoey Stark is just the start of a long and glorious career and for her age, Sarray is beyond her years. Proper booking could ensure her success and we may be looking at the next Asuka in the years to come. 
ADVERTISEMENT
Article continues below this ad