Finn Balor Looks Back at His Short but Blockbuster Match With Brock Lesnar at WWE Royal Rumble 2019
Published 05/26/2021, 2:21 PM EDT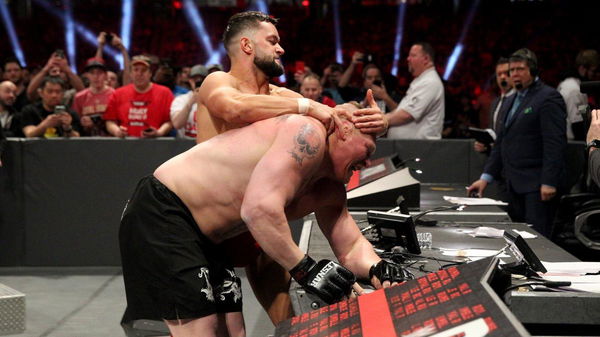 Finn Balor is one of the most versatile competitors in WWE, and is one of the most experienced names on the roster, having wrestled in various independent promotions and NJPW before heading to WWE. The Irishman has faced many a foe in his time in the spotlight and has plenty of fuel left in the tank. 
ADVERTISEMENT
Article continues below this ad
However, like many, he feels standing face to face, toe to toe with 'The Beast Incarnate' was a different experience altogether. Speaking on Out of Character with Ryan Satin, 'The Cat' explained how he could 'sip' the feeling of wrestling Brock Lesnar for the rest of his life. 
ADVERTISEMENT
Article continues below this ad
"Then there's Brock Lesnar, which was one of my favorite matches, but it was a short match. The feeling in the ring that night felt like….you go through all these days of hard work, pressure, the grind, and traveling to get to a moment where you're completely free and at ease. That was one of those nights in there with Brock," Balor said. "If I could bottle that feeling, I could sip it for the rest of my life and be happy." (h/t Fightful)
Brock Lesnar found it hard to hold Finn Balor down
Finn Balor's match against Brock Lesnar was not as long as fans expected, but did pack action at every turn. Even though he faced a man of a higher weight class, Balor took the fight to Lesnar and even had him scrambling for support at one point. 
ADVERTISEMENT
Article continues below this ad
Lesnar himself could not get hold of Balor long enough for a pinfall and won the match through submission, locking his competitor in a Kimura Clutch. Fans have wanted another match between the two, but given the long queue of wrestlers that need to face him, this may not be possible. 
Finn Balor has had his fair share of intense matches in NXT. His time in the brand has really brought out the best of him and fans have finally seen him as his true self rather than the popular 'Demon King' character. 
ADVERTISEMENT
Article continues below this ad
The showdowns against Kyle O'Reilly and Adam Cole really elevated his status in WWE and we could use him back on the main roster once his time in NXT is up. The Irishman could return for that Universal Championship and by the looks of it, he could very well take it sometime in the future.